INES KATAMSO : WHEN BIOLOGY MEETS POETRY
We meet with the artist of French and Indonesian descent, Ines Katamso, at her studio Seni K. She welcomes CUB in her art space in Drupadi, Seminyak, where she is busy working on her next monumental solo exhibition, which will take place in ISAA Art & Design gallery in Jakarta in September 2021. At only 30 years of age, she is already a very prolific artist with a very personal universe, which mixes refinement and poetry. She opens up to us about her new project which borrows from biology and the craft of weaving.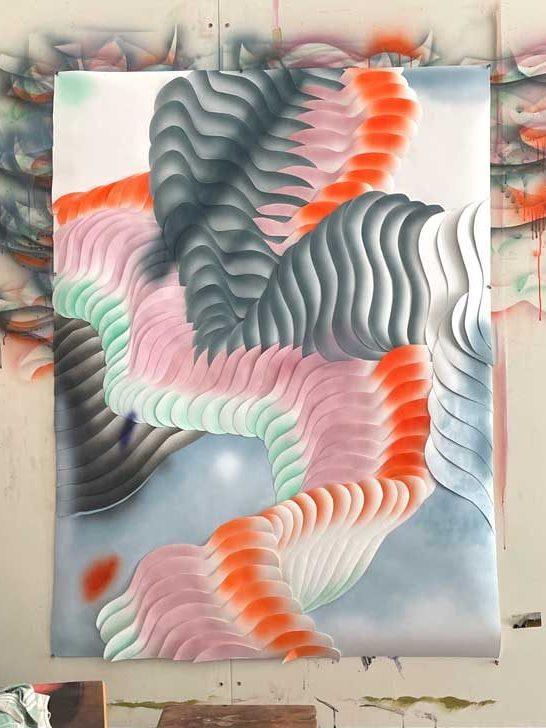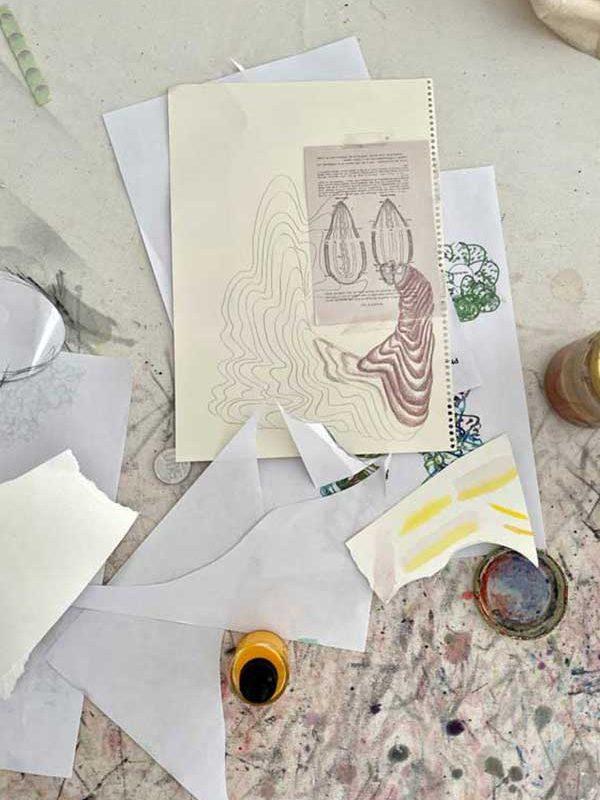 CUB: Hello Ines, thank you for welcoming us to your workshop in Seminyak! We've been following you for a while and love your work. For CUB's readers who may not yet know you, could you briefly tell us about your background and origins?
I was born in Yogyakarta to a Javanese father and French mother and spent the first 10 years of my life in Java before returning to France to study Art and Design with a specialization in textile and fashion design.
In 2011, a professional opportunity brought me back to Indonesia to work in Bali as a fashion designer. I didn't enjoy the experience, especially when it came to the production side: I had little connection with the creative concepts because the brand's target market was foreign to me. That said, it was good training: learning to respect deadlines, getting the feel of a collection's general organisation, managing a budget, sourcing, understanding the specificities of textiles.
During the same time, I continued to draw a lot, mostly designs for murals. I did a huge mural in a concept store at the beachwalk in Kuta with references to Indonesian mythological culture and included symbols used as motifs in batik fabrics.
Following this project, which got some press coverage at the time, I received more and more commissions for the private sector, for villas or hospitality businesses, so I decided to launch my own studio Atelier Seni in Seminyak. Seni means 'Art' in Indonesian but it's also INES backward (laughs). Even though I was doing wall art on commission, I managed to impose my own universe whilst following the client's specifications. My successful projects in interior design such as 'Sugar Sand', Indigo-Seminyak hotel's beach club (a 10 meter high fresco created in 4 months working full time), a solo exhibition in Jakarta's Diallo Buah, the Layar resort's restaurant Sétimo Ciello, Biasa + The Little Things or the Omnia have given me the space to develop my work as an artist.
Since your arrival in Bali in 2011, your work has evolved, both in terms of subjects, formats, motifs and techniques used. In a few words, could you tell us what is your common creative theme?
I worked a lot with thread in my frescoes, I also painted hands a lot in relation to know-how and craftsmanship. Thread first represents for me the end and mourning my studies but I also see it as a reference to life. Thread is a very strong symbol, life unravels and when the thread is cut we die. It also has references in Greek mythology. These days, I mostly paint personal canvases rather than commissioned frescoes.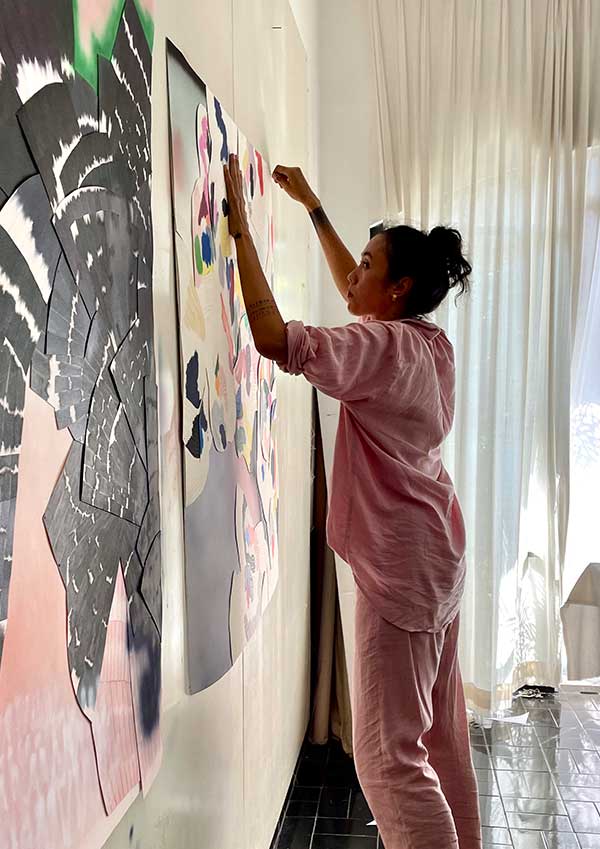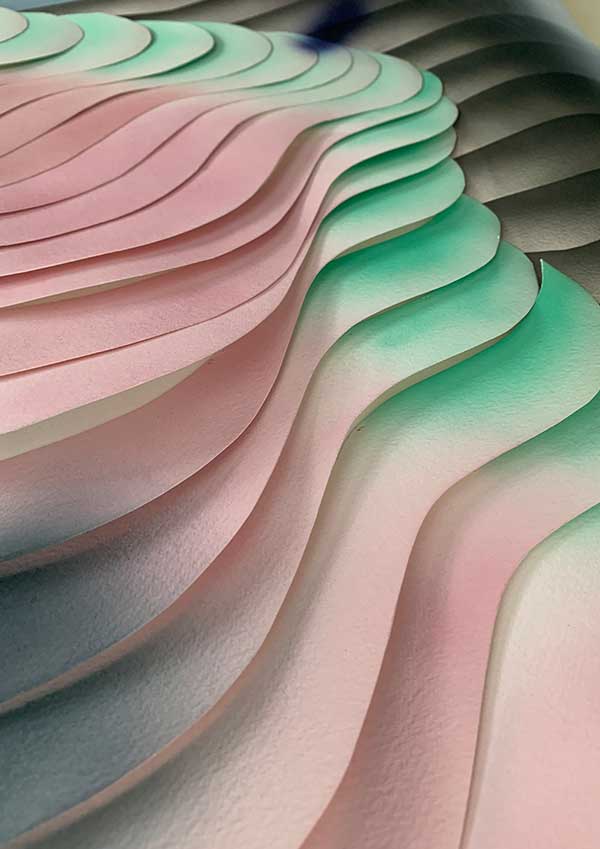 Is your recent study, "Translating the concept of Synthesis in Biology" on combining several paintings through observation and chemistry, the result of the current health situation? Is there here a reference to the lack of control of outcomes, to pure chance and to non-predictability?
My latest project was more about life, microbiology, biogenesis. For several months now, I have been growing bacteria in my studio and observing them develop under a microscope. When you study molecules, the building bricks of life, with all the existential questions we all ask ourselves, you realise that COVID is not that serious; it has helped me to put things into perspective: we are but the blink of an eye in the history of our planet.
My first paintings were very figurative, in reference to Hockney, to Symbolism, with big flat areas of colour, many shades of green, an organic feel…With this new project, I wanted to further illustrate the idea of nature and life, something more than a plant, with me in the background. I became interested in astrophysics and life's appearance on earth. That's what this painting is about, about how two molecules coalesce and create something more complex. The principle is simple: I paint two canvases which are then cut into regular strips and RE-woven together in a random fashion. Each initial pattern is repetitive, I like a form of creative routine that you cannot see at the end, a nod to the way bacteria multiply.
This was be a set of three paintings, a unique and unprecedented project. The pictorial result will be somewhere between an organic and a pixelated universe. The weaving delivers an unexpected digital effect. It's a long and meticulous process, like creating a piece of jewellery, which once again links back to my intimate connection to craftsmanship. When I get tired and bored, I watch Top Chef on Youtube (laughs).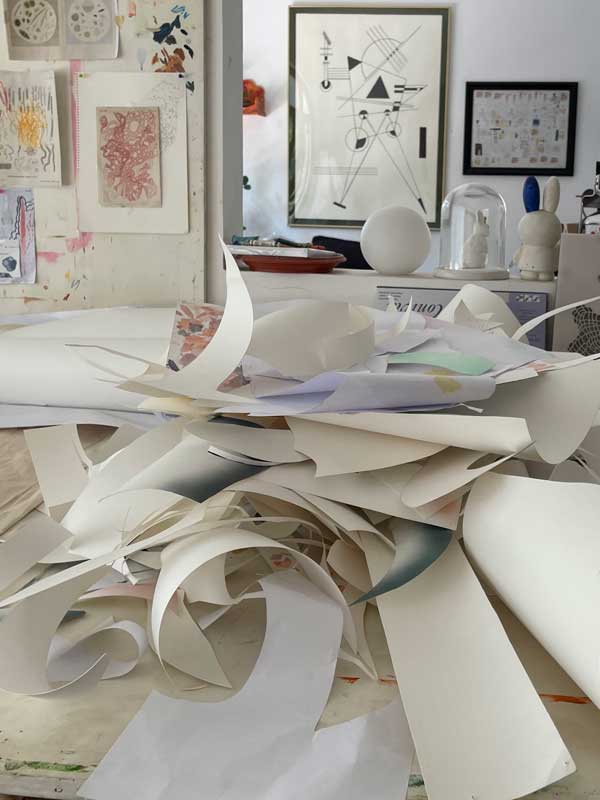 In parallel to these canvases, there were large sculptures representing cocoons, made of TYVEK® which is a material with exceptional properties. It's Lightweight, durable and breathable, yet resistant to water, abrasion, bacterial penetration and aging. It is used in hospitals. It's a 100% synthetic material made from high-density spun-bound polyethylene fibers, and woven inside. Visitors could enter the cocoons and have an immersive experience in which they can observe webs and sculpted walls, at the heart of the matrix.
For these monumental sculptures, I collaborated with and received support from a Jakarta-based company, BYO Living, winner of the 2018 Venice Biennale for its work in collaboration with the Indonesian architect Andy Dewantoro. BYO Living specialises in visionary weaving techniques that offer a multidisciplinary functionality in volume creation, for architecture or interior design. So they are going to weave these huge bubbles for me…
This is the first time they collaborated with an artist, so I felt privileged to collaborate with such talent! They have already signed projects with the Potato head in Bali and will be making structures for the new Apple stores in Kuala Lumpur soon.
When conversing about life, one tends to consider respecting an eco-friendly technique… Is this an approach that you have integrated into your work for some time ?
Yes, at the beginning I painted with oil, so I cleaned my brushes with white spirits, which then went into the groundwater . You can't worry about plastic pollution and then still use polluting pigments. So I decided to work with non-toxic inks from the American brand Bombay INK by Dr PH Martin (which I have imported from Jakarta) with a gum arabic binder. I make the frames myself which are either recycled wood and painted with flour paint or recycled plastic from BYO Living. I don't use glue anymore, I only do hand stitching, no more gluing. But this demands great regularity in work and a lot of patience (laughs).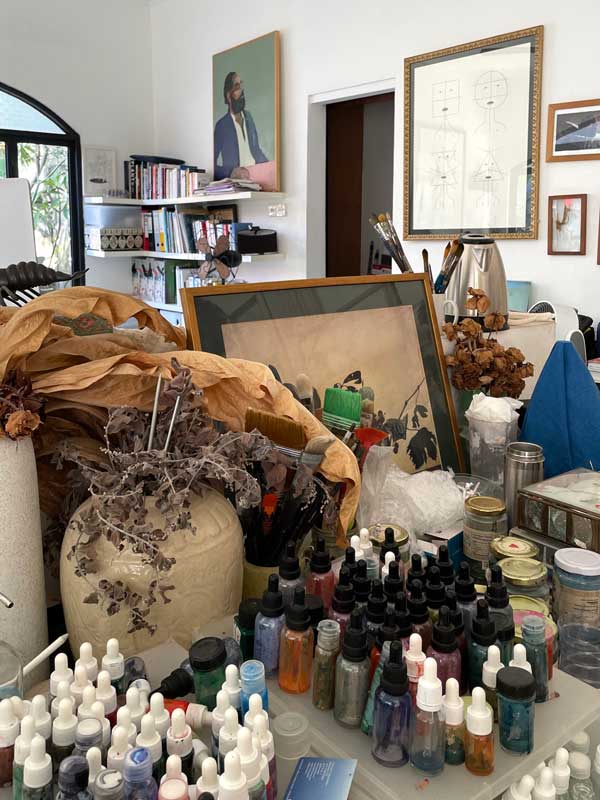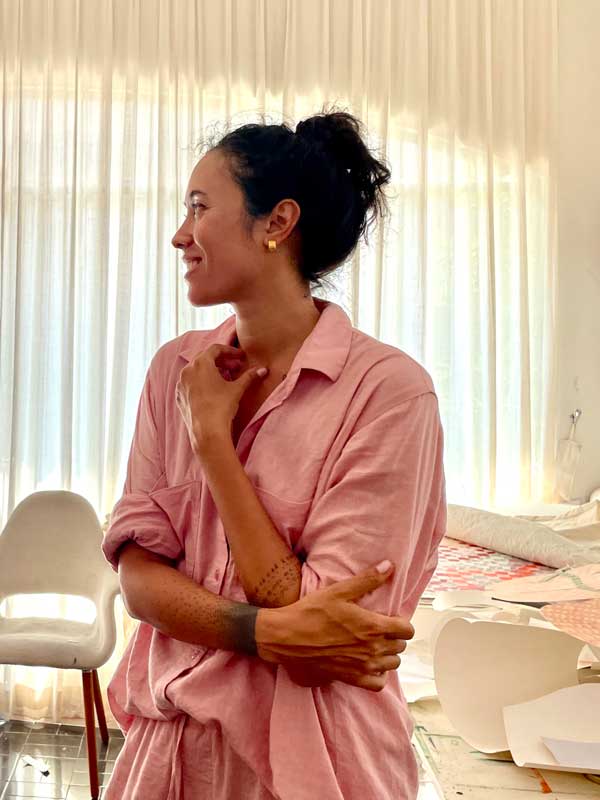 Credits : CUB Team