MAKE A SCENE : MAKING THINGS THAT MATTER
CUB recently met with 'Make A Scene!''s two founders, Chloe Quinn and Ida Bagus Gede Ari Artana (Gus Ari) in John Hardy's flagship store in Petitenget. The company provides sets and decorations for a variety of events, with the unique difference that these decors are made almost entirely from woven coconut leaf.
The idea behind the venture was born from the chance meeting in Bali of Chloe, a UK born theatre and set designer and Gus Ari, an expert and master in coconut leaf weaving and a green movement activist. Their mutual admiration inspired them to rethink the way scenic installations and decors are created and start using traditional leaf weaving techniques in their construction, but with an innovative modern twist. Working with a team of expert weavers from Mengwi using only locally sourced natural materials, they are making a difference in event eco sustainability and also in revitalizing a time-honoured craft. This dream team has been creating artistic structures for Bali's most prominent and fashionable events and showing the world that woven coconut leaf is most definitely as cutting edge as it is sustainable. They hope to inspire others to emulate their approach and start using natural and biodegradable materials to create decors, fusing artistic creation and environmental consciousness. Covid having canceled many events, they have recently had the opportunity to branch out into jewellery design and use their artistic talent and traditional weaving skills to make tiny unique intricate objects as well.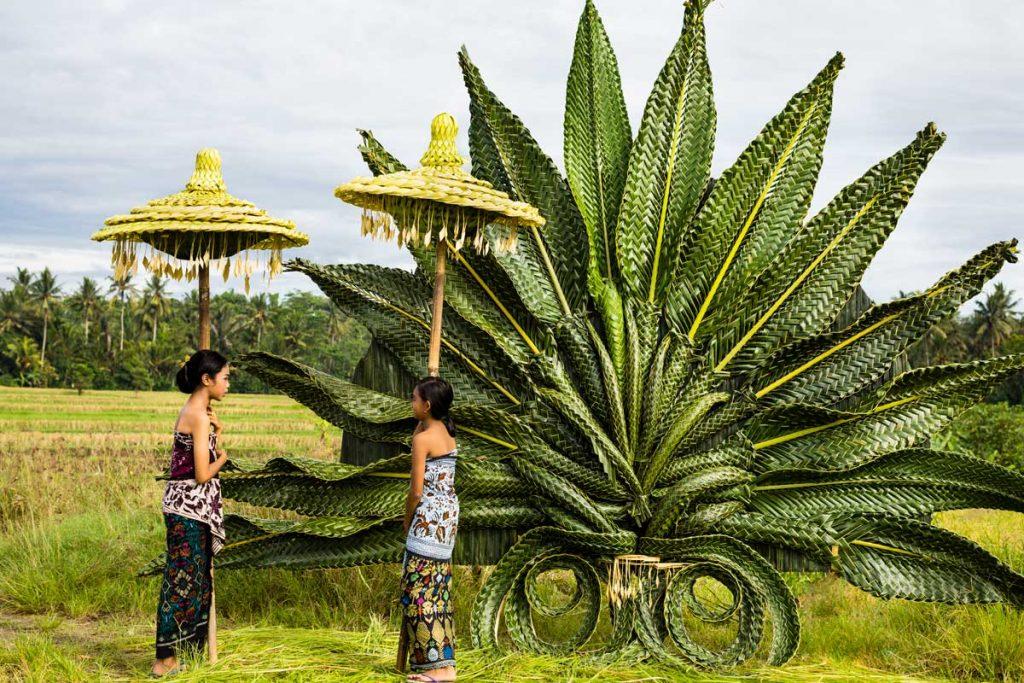 Tell us a little about your background and how 'Make A Scene!' came to be.
Chloe : I come from a theatre background. My degree is in Set and Costume design, I came up with the name 'Make A Scene!' as a play on words since I have been trained to transform spaces into 'scenes' that tell stories in plays.
I first came to Bali in my first year of university. I only came for two weeks the first time but I fell in love with this island. I was completely taken by the culture, the religion, the temples, and I particularly noticed the beauty of the handmade offerings (canangs). I have always been into crafts and making things by hand. In seeing the intricacy, variety and beauty of what is made for ceremonies, I knew I was in a creative paradise. So I kept coming back year after year, eventually I came over for what was planned as a 6 month stay. By this point, I had left my job in England and I joined a 'Women in transition' course here in Bali, which became the foundation block for developing my new business idea. I knew I wanted to call it 'Make A Scene!' During this time I was also an apprentice with a Balinese wedding decoration business but the un-sustainability of the materials used kept raising questions in my mind. People kept telling me how important it was to find green alternatives, because it was all styrofoam, paint and fabric at that point, really not eco-friendly at all.
At that time, 4 years ago, all the entrances to ceremonies and weddings were made from styrofoam or synthetic (non recyclable) materials. Serendipitously, I discovered Gus Ari who was working entirely with green, recyclable, biodegradable materials. He was a real pioneer, using the same traditional ornate ceremonial entranceway forms and designs, but making them entirely out of coconut leaf.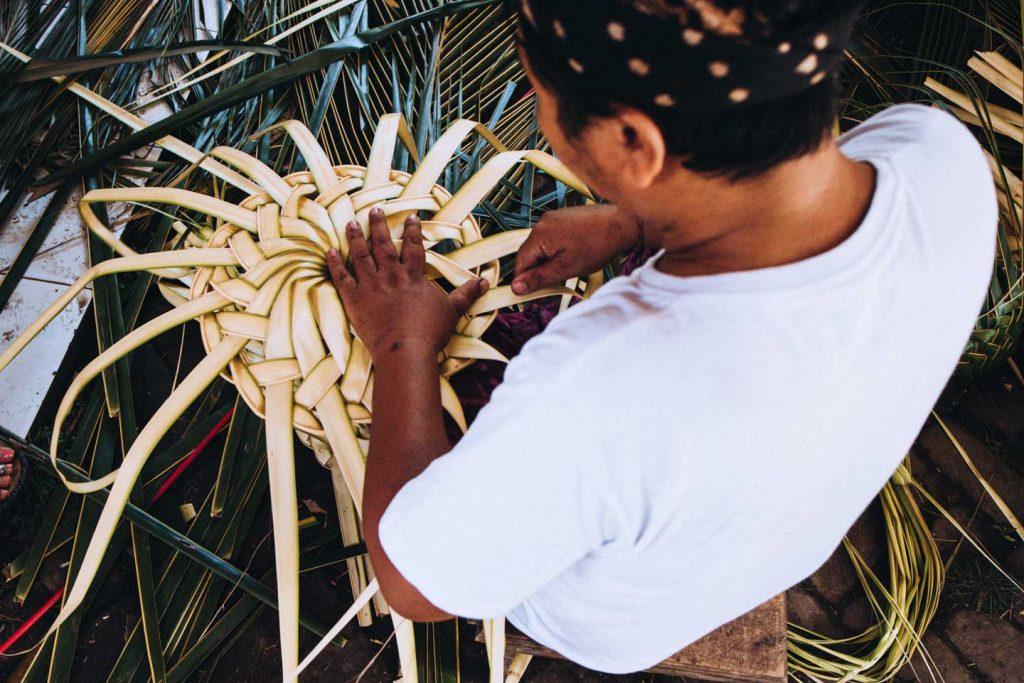 Gus Ari : I started by mixing things up, being innovative and making things from natural materials. I like how the offerings are made. I am the only boy in my family. Traditionally, in Balinese families, only the women make the offerings but since I was the only boy I ended up doing it too and I was good at it. I put effort into making beautiful pieces and then made them on a larger and larger scale, big enough for ceremonial entrance ways and wedding decors. I realised that a lot of the decorations were being made out of styrofoam and plastic. I started weaving the leaves to make bigger ornaments, and, quickly, many priests and local Balinese families told me how much they loved them. And that's how it all started.
When I met Chloe, she brought in fresh ideas. She pushed us to be more innovative and we started working with her ideas more, not just making pieces for ceremonial events but also other pieces, for other types of events.
How do you evolve from theater design to weddings decors to these huge installations?
Chloe : When Gus Ari and I first started working together, we were still doing quite traditional decorations. The team's openness and enthusiasm to hear my western ideas and a 'contemporary take' on their traditional work really enhanced the possibilities for our designs. In addition, we had requests from customers who asked us to interpret their ideas in woven leaf. The whole team's "Yes, We Can Do it" attitude has driven us to be more and more adventurous over the years.
How did people find out about you at first?
Chloe : Right from the beginning when I first met Gus Ari and the team I started an Instagram account to document this new, innovative art form I had discovered. I took videos and photos of the process of the weaving because it fascinated me. The account really took off and it continues to build international interest too. What is special about our team is that we continue to push the boundaries of our leaf material and the weaving techniques. In particular, what really gets people talking are our impressive 3D sculptures.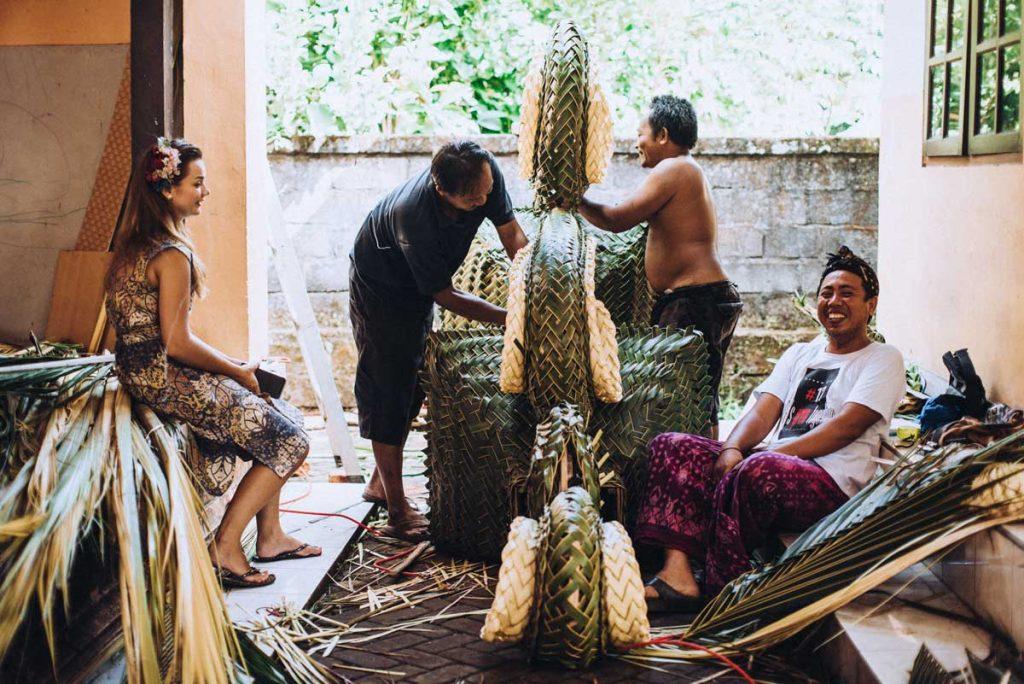 How is the company structured?
Chloe : The team is based in Mengwi, everything is made there in our workshop. There are 7 master craftsmen and women and up to 20 additional weavers for a large-scale order. We also love to collaborate with Udianata, the bamboo artist, and his bamboo team in Tampaksiring. It is a strong partnership that will see exciting collaborations in the future.
We're seeing more and more hand woven decorations for events, are they all your work or are there many copycats out there already?
Chloe : We do get people copying us so we have to stay on top of our game. Unfortunately, there isn't any type of copyright here in Bali. Where the team really excels is not only in two dimensional weaving but also big 3D sculptures which are very difficult to emulate. We collaborate with Udianata, the Bamboo artist for some projects. The combination of both of our techniques and of two woven natural materials, along with his drastically large dimensions, result in unique creations.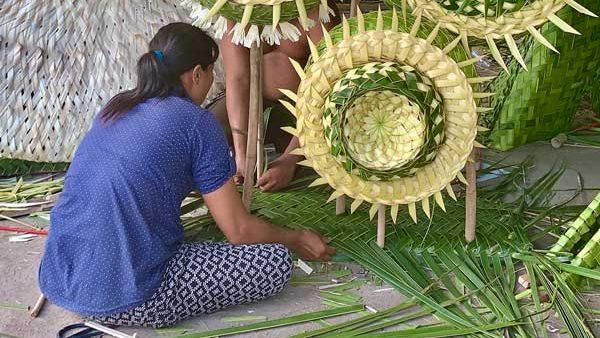 Is it all ephemeral then? And if it is, can you export the concept or can you only work locally?
Chloe : We've started moving on to dried leaf sculptures, giving clients the option of a bronze colour in addition to the ephemeral 'green'. If commissioned in dried leaf, the installation is more permanent and has an antique, classic aesthetic. We do not artificially treat the leaf in any way, the quality of our weaving means our pieces can last years.
There was also a pivotal shift for us when we added lontar leaf to our materials. Now with the use of this leaf (Asian palmyra palm, which was traditionally used In Indonesia for manuscripts which have lasted through the ages), we have actually been able to export to New York. We were commissioned to make the Christmas window displays for all 20 of John Hardy's stores across the US. We made hundreds fans and handcrafted objects. I was told they were re-used again this year and I think they'll be able to use them for years to come. We love Bali and using the fresh green leaf here but we also have aspirations for our work to be commissioned internationally, in addition to the U.S , the United Arab Emirates is a potential new destination in the future.
When you get big commissions like the John Hardy Christmas one, do you hire and train additional people from the community ?
Gus Ari : We sometimes train more people if needed. We are a tight community in Mengwi so it's not hard to find people and to teach them the new techniques and make a strong team.
Chloe : For example with the jewellery we're making now, Gus Ari has invited kite makers into the team because they're extremely patient and are particularly skilled in achieving small detail, which is what we needed. So if the project demands new skills, we are very fortunate that Gus Ari knows his village well and can find the right people to bring onboard.
What has been the impact of Covid for your company?
Chloe : The pandemic has obviously been an issue because all Events had to be cancelled. We had to think outside the box to survive. Out of this necessity our beautiful jewellery collection was created. I turned to my costume design training and the weavers revived the 'tipat' weaving skills and we also collaborated with local silversmiths, a very interesting new path for us all.
Your new project is officially launching your new jewellery collection. How do you go from coconut leaf weaving to this?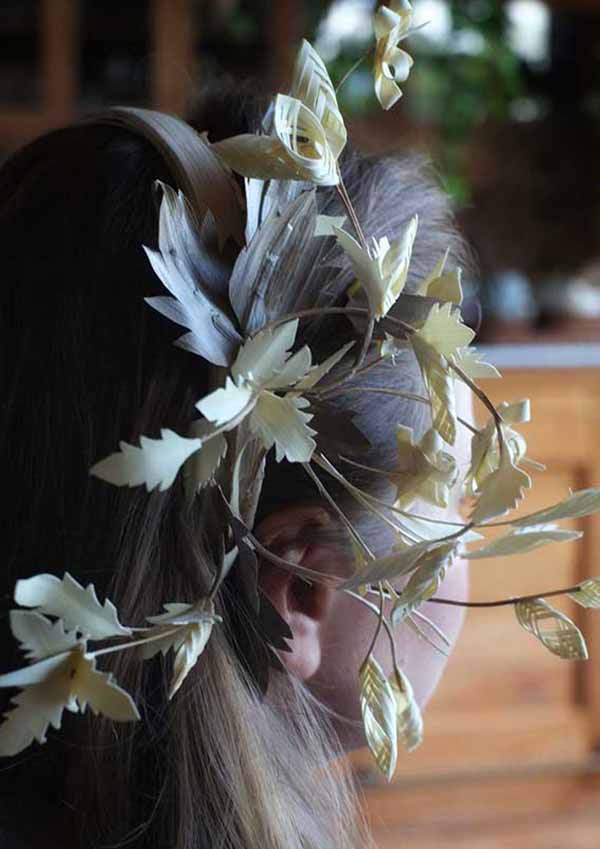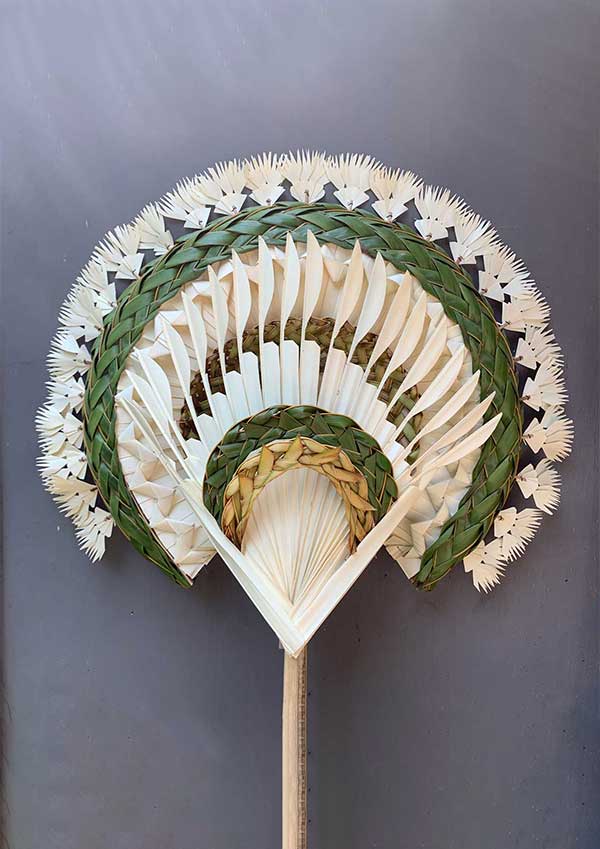 Chloe : It was when John Hardy in the US specifically asked us if we could weave in lontar for their particular project. They wanted to work with a combination of colors, of the brown and the cream.Our first response was that we couldn't do it, as lontar leaf was too brittle and not malleable enough for weaving. However, we experimented with new tools and explored new techniques and we managed it! We've liked working with lontar's new color tones. It is particularly interesting as it retains its cream colour unlike slepan leaf. We really have John Hardy New York to thank for giving us this idea and introducing a new leaf into our portfolio.
How long did it take to make the art piece in the John Hardy showroom?
Gus Ari : The big 3D chain? 2 months. 1 month for weaving, two weeks for structure and 3 days for installation, which was challenging. It had to come in five pieces to get it through the door so we had to reassemble it in-situ and hang it! It's a new technique based on traditional weaving. Free-style, continuous weaving in 3D over 10 metres disguising the joins. The weaving itself is quite traditional but the application and scale are very technical.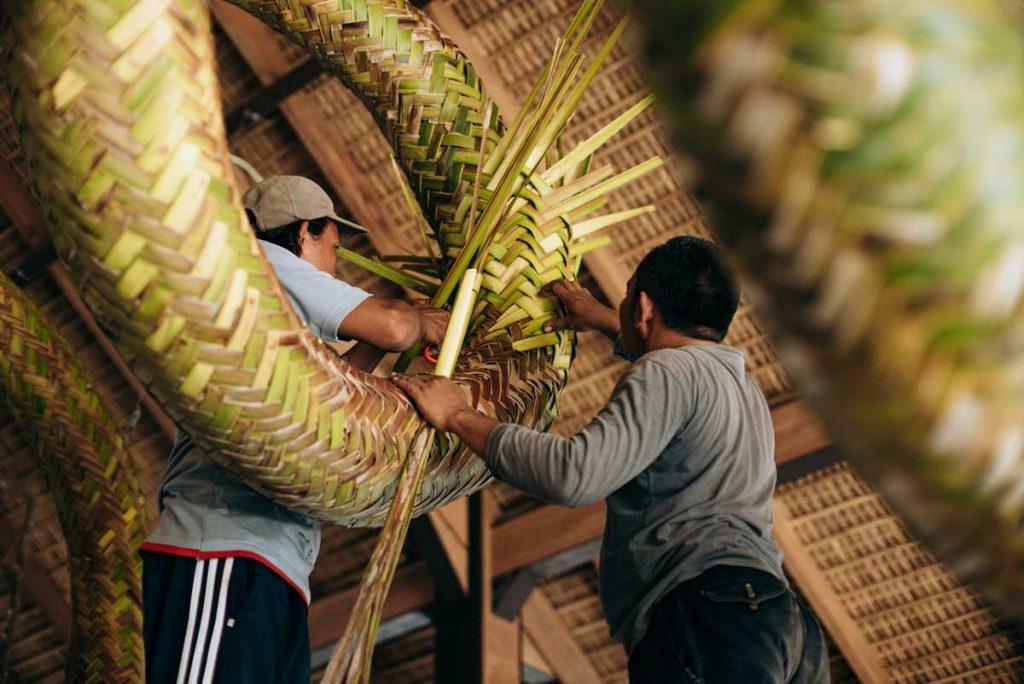 How did you meet John Hardy company and end up working with them?
We had designed the stage design for Tedx Ubud. Polly Purser, who is head of heritage and culture for John Hardy here in Bali, was an attendee. I was manning a 'Make A Scene' photo booth, we had our handwoven crowns there. Polly and I started talking and she ordered some crowns for the Kapal Showroom and a set to ship to the New York Headquarters to test how well they would travel (which was a success). From this meeting, our creative partnership has grown over the years. We really want to nurture our relationship with John Hardy as much as possible, we love working with them.
What is your inspiration? Do you also develop projects on demand ?
Chloe : How I would best describe 'Make A Scene!' and what we do is this : we appreciate and value the ordinary and make it extraordinary. We take a familiar, omnipresent leaf in Bali and elevate it into the contemporary.
Clients can either choose from our catalogue of work, or we can develop a design idea from scratch. For example for John Hardy, the concept was to bring the iconic John Hardy silver 'classic chain' to life through coconut leaf weaving. We met with Polly (Purser) and held the original chain in our hands twisting and turning it above printouts of their floorplan. When the design was complete, all we had to do was make it on a huge scale!!!! (laughs). Alternatively, somebody can send us an image and say 'can you make the backdrop for a wedding (or other) based on this image.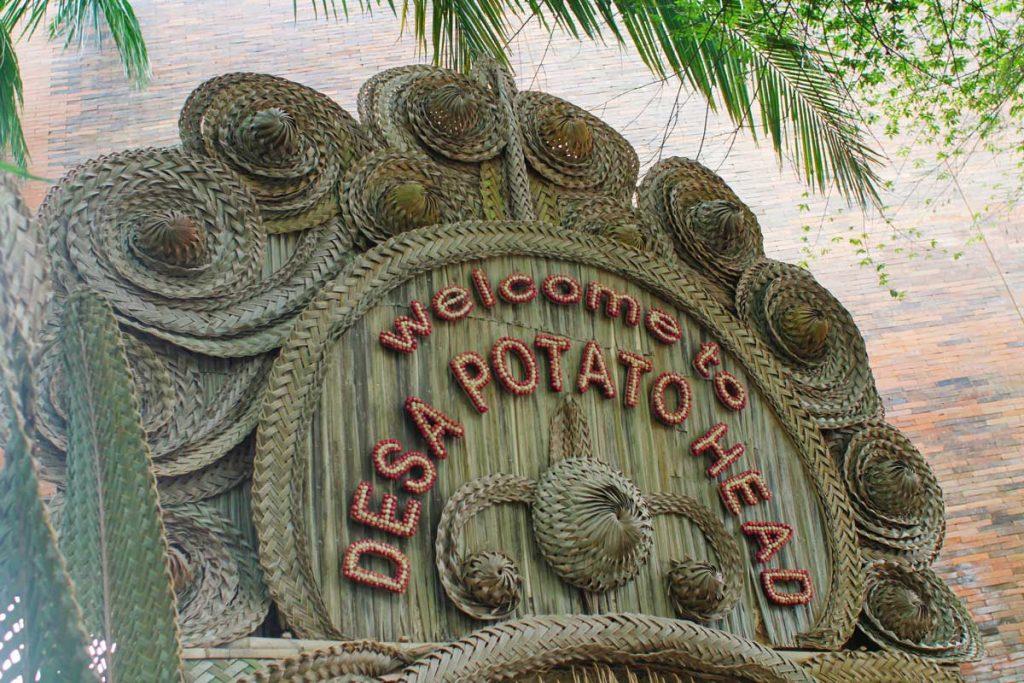 Which scale do you prefer to work on ?
Chloe : You get the 'wow' factor with the big scales, People are amazed by the huge dragons and the massive trees that we have made.
Gus Ari : The challenge, when you make something big, is how big can you make it . And similarly, when you make something small, how small can you make it, always pushing the scale further in every direction.
Do you use new techniques like 3d printing or cutting ?
Chloe : No. Everything we make is handmade but we can communicate with our customers more precisely now with the use of our Ipad Pro. It helps me with my design process, I can take my ideas to the team who can see exactly what I am aiming for. Beforehand we used to hand draw all of our proposals.
Do you think the fact that women encouraged you to weave decoratively from an early age has influenced the composition of your team?
Gus Ari : Our team is made up of 6 women and 10 men, some of the very detailed weaving can only be done by women, the men cannot do it as well.
Chloe : Over the years The women in the team have really gained confidence and have become master craftswomen in their own right. With my encouragement, Gus Ari has been really forward thinking, challenging the patriarchy in Bali within his workshop. He has created an environment where they're supported, challenged and celebrated. They are no longer just asked to provide the finer details but they are equal to the men in their abilities. They are really setting an example in the village and for their children.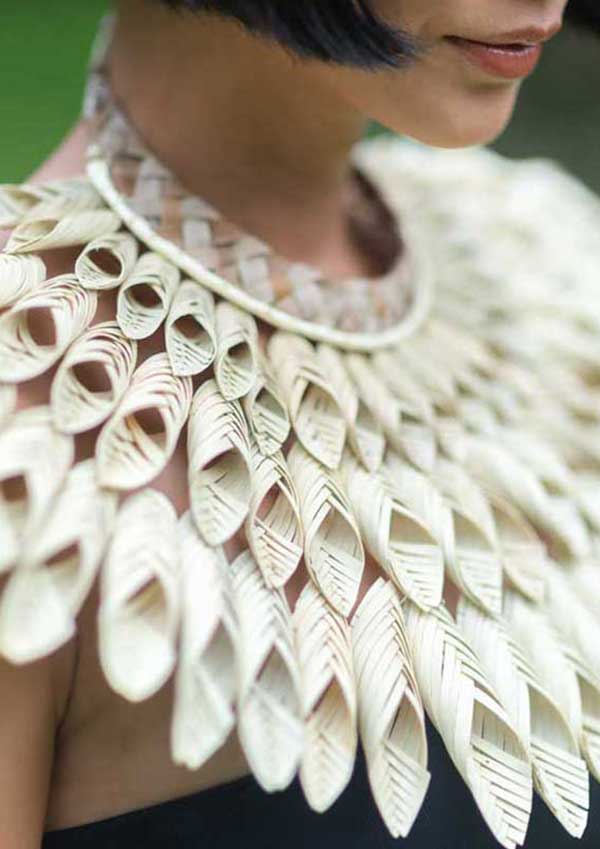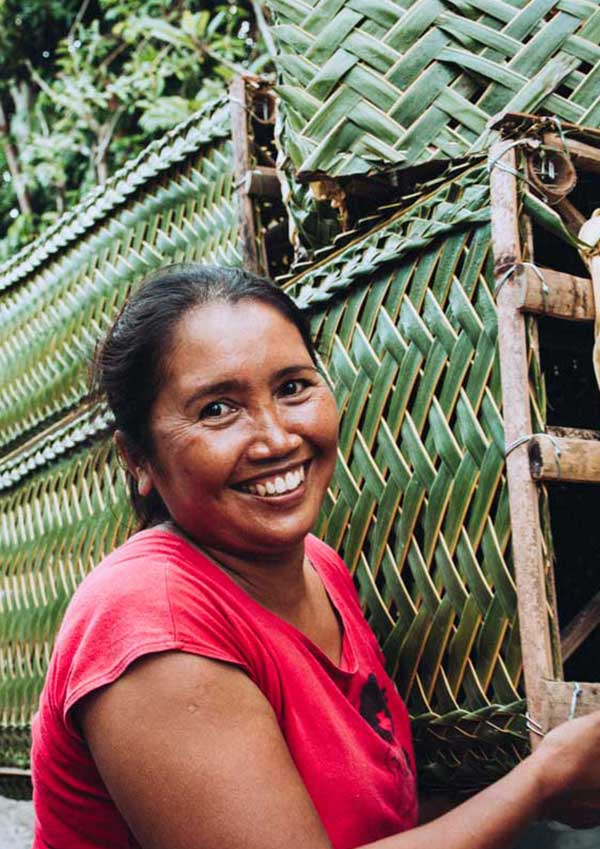 What have you found the most challenging ?
Chloe : The change in scale and precision. This team is used to creating huge pieces of scenery that you look at from a distance, the initial visual impact being the most important thing. Now with the jewelry project, people are really examining the pieces very closely. Absolute precision and perfection are essential. Consequently we have had to make a real transition in our work to achieve this.
Gus Ari : In Jakarta, they were clear that there is no room for errors, the market demands absolute perfection. They love handmade crafted objects that are unique but they are also unforgiving and will examine everything with great attention and a fine-tooth comb. We have to step up for that.
A question you would like to be asked ?
Both : Our role models!
Gus Ari : Niluh Djelantik. she is a shoe maker, everything she does is really original. I really love her creations. She brings pride to the Balinese, a woman full of great ideas.
Chloe : I have a few role models : Tim Walker, the fashion photographer, and his 2 set designers, Rhea Thierstein and Shona Heath. He has a great fantasy world, I would love to make photoshoot backdrops and catwalks inspired by his work! Or tour with a band/ music artist and build their eco-friendly stage sets. I love also Thomas Heatherwick, how he defies architecture and the way he works the materials. He pushes boundaries. And Elora Hardy the architect and designer of Ibuku, John Hardy's daughter! She has inspired Indonesia and the world, showing that with this one familiar material, a grass- bamboo, she can make magic – extraordinary homes.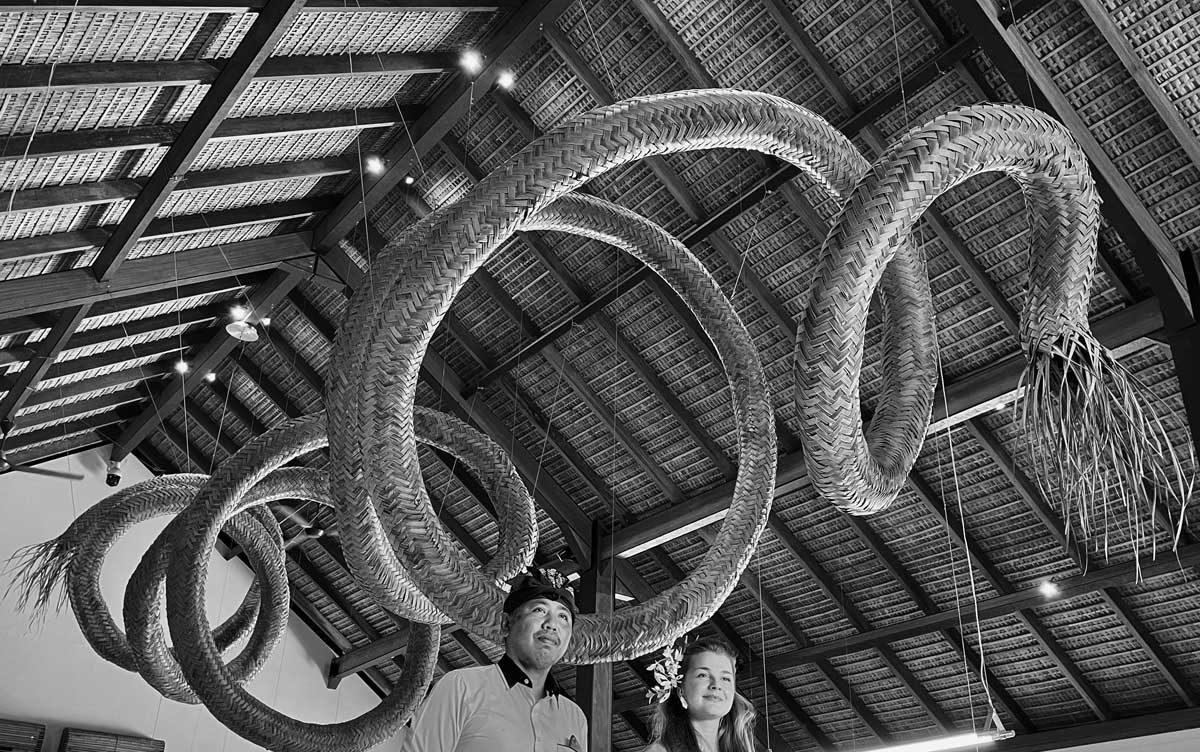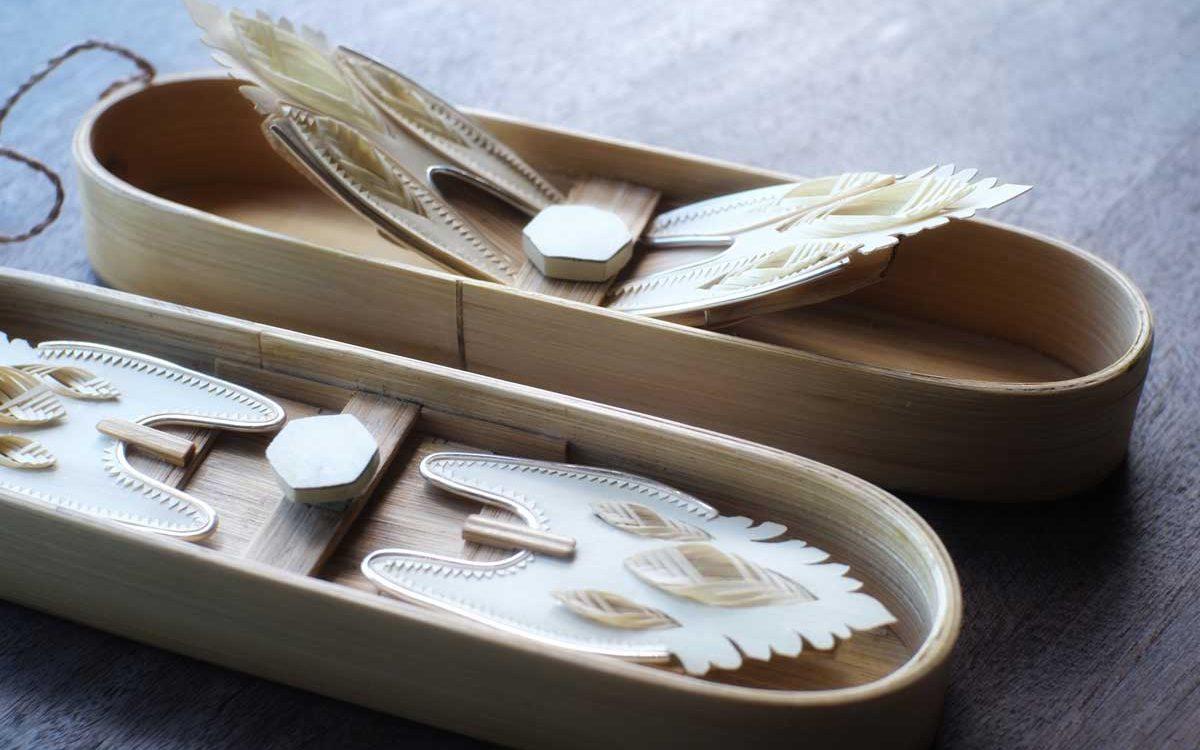 If you had a big international order, would you make it over there or send it ?
Chloe : We have recently submitted an exciting design proposal for Dubai. It would all depend on the budget of the client and the accessibility of our material: coconut leaf in that particular country. It would also depend on whether the client wanted an installation to be fresh green leaf or the dried leaf. If the latter we would definitely weave the installation in pieces here in Bali and then ship to the location. Working in our own workshop is most comfortable and effective for the team, however with the potential for international clients we have to be adaptable in our process. Thinking about how we can make our creations as flat-pack as possible to ship and assemble in situ, either by our team or another team, is now an integral part of our concept and design process for international clients.
What are your upcoming projects over the next few months ?
Chloe : The grand entrance for the reopening of 'Potato Head'. Finalising our jewellery collection ready for launch, preparing the online shop…Exciting times!
We really hope Bali will reopen soon…