PARK 23: TURNING COMMERCIAL PLACES INTO CREATIVE SPACES
From a struggling mall sprouts an inspiring artistic hub
Park 23 is a new cultural space in the Tuban area in Kuta. The shopping mall building, dating back to the '80s, inaugurated in 2015, had become derelict with the covid crisis. Like the mythical Phoenix, resurrected from its ashes, the commercial complex is coming back from the dead thanks to an ingenious gamble. The concept is to put Bali's emerging creative economies and artistic scene in the spotlight by creating a new and original  exhibition and event space. 
In the long run, the idea is to create an innovative hub that can welcome, either permanently or on a temporary basis, collectives, upcoming F&B brands, digitals artists, gaming, handicrafts, inventive fashion and original design, in the spirit of M block in Jakarta. The capital's creative space was a pioneer in reclaiming a commercial outlet and revamping it into a cultural venue: what used to be the Peruri complex now has a respected artistic program of musical events, talks, workshops, and so on.
From the 17th of February until the 15th of March, Park 23 will host two exhibitions "Art of the Bamboo" (Showroom space on the first floor) and Steampunk & Industrial Vibes (Gallery space on the first floor). The CUB team met some of the invited artists in their studios in Gianyar and Tegallalang.
STEAMPUNK & INDUSTRIAL VIBES – UPCYCLING IN INDONESIA
For those unfamiliar with the term, Steampunk is an artistic aesthetic that blossomed during the industrial revolution. It is a chimerical vision of Human beings' place in a more-and-more automated mechanical world. More precisely, Steampunk found its origins in a literary movement strongly influenced by science fiction.
Wawan Gondrong's Metal Art and the ethereal grace of nuts, bolts, and spanners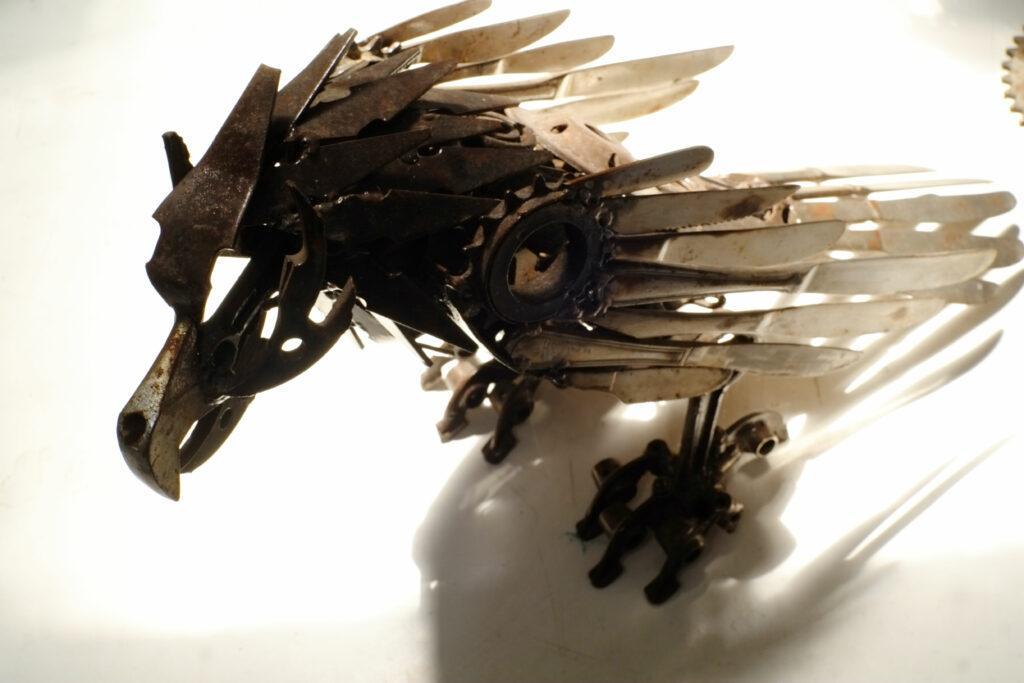 Wawan Gondrong was born in 1984 in Java. His work is all about the spontaneous repurposing of various steel and iron materials. He creates monumental sculptures (scale 1:1), all made with hundreds of reassembled mechanical metal elements. The art pieces are inspired by science fiction and the world of Manga comics: think massive metallic 'Spartan' warriors, 'Manchester terrier' mechanical robodogs, or cyborg droids taking two months to be welded to completion. Wawan is a self-taught man who, when he arrived in Bali in 2013, started off selling cardboard for recycling and painting buildings. He began playing around with welding in 2015 with a group of local artists.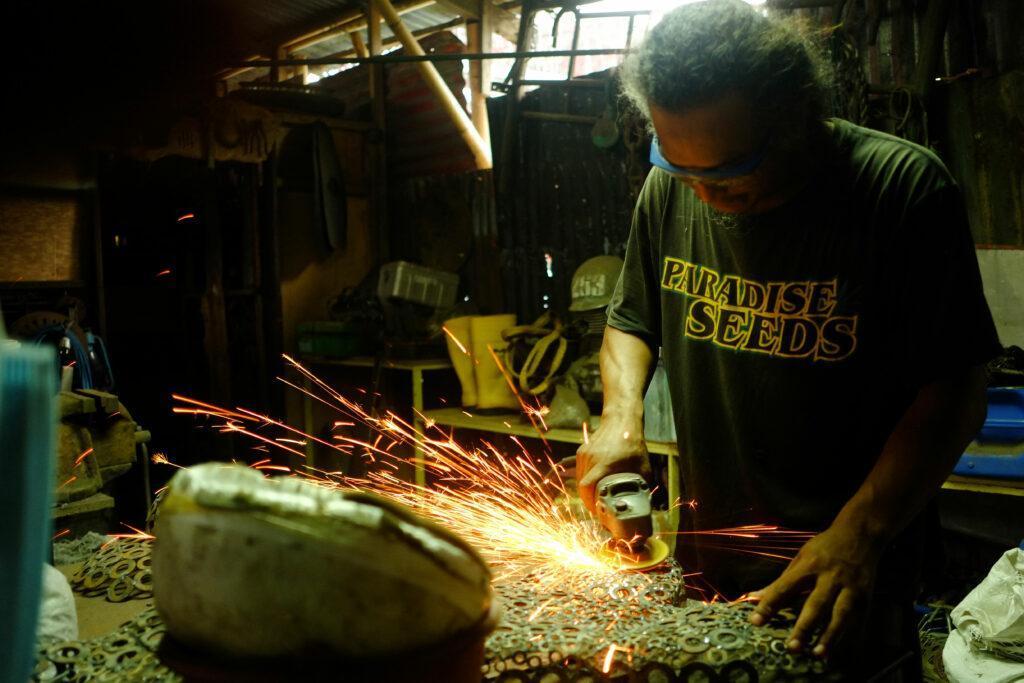 His inspirational source is interesting, a reflection of the modern era, and "resonates particularly with the global trend of upcycling and the local constraints that make inventive thinking a way of life in times of crisis," notes Pascal Maillet, his agent. Wawan sources his raw materials in scrap yards and with waste metal collectors, buying by the kilo what cannot be reused. His creative approach is in the tradition of Duchamp's use of everyday consumer objects (or their refuse) in art.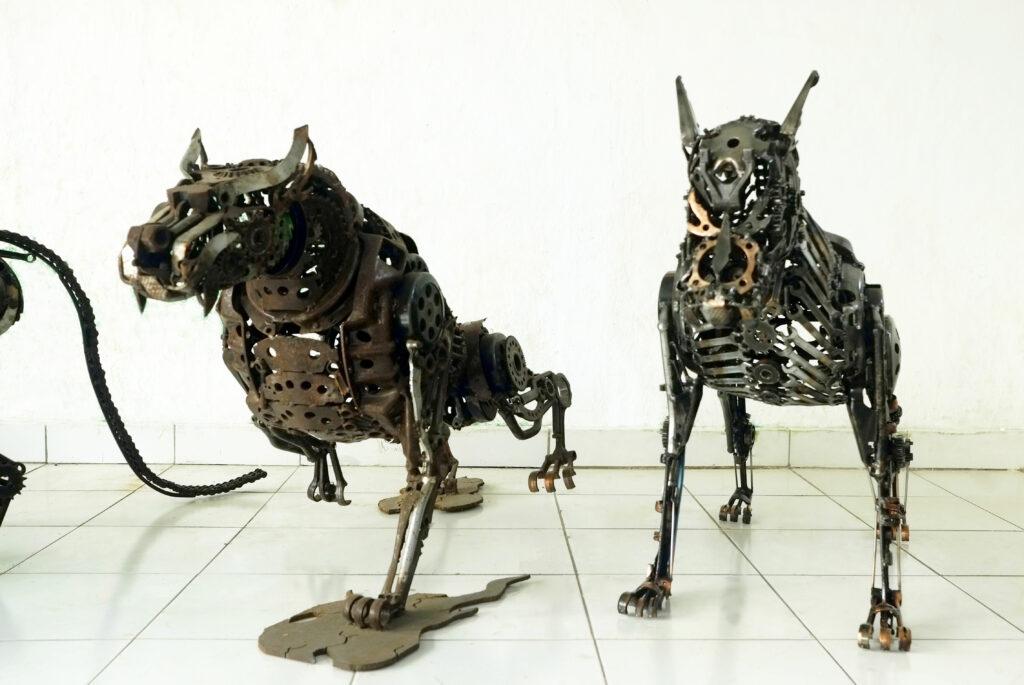 What makes Wawan's work profoundly original is the creation of beautiful, even graceful, statues from unlikely ' rough' materials such as spanners, bolts, metal plates of all kinds, and other mechanical leftovers. Despite their industrial components, his figures have a strange surreal yet powerful grace to them. Entering his studio is like stepping into a real-life Fritz Lang's Metropolis.
Somad : In the footsteps of his neo-expressionist predecessors
In the same studio gallery in Tegalalang, Cub meets the painter Somad born in 1983 in Java and who shares with his neighbor Wawan the love of classic Vespas. Somad also picked up his know-how as he went along, without any formal education, by hanging out with a community of Ubud artists and painters in a Kos-kosan (cheap lodgings) on Jl. Gentong. He has already had some success with exhibitions, in particular at the Alila Hotel (2009), Mansion Hotel (2010), Café des Artistes (2016, 2018).
Watching a documentary about Jean-Michel Basquiat in Sanur's Darga gallery in 1995 is what made him want to become an artist. He is as exhilarated by the freedom of thought and lifestyle that the American artist represents as by the engaging raw beauty of his paintings. Somad similarly uses bright colours, graffiti style, and strong expressive lines but has left aside the political message against racism and colonialism.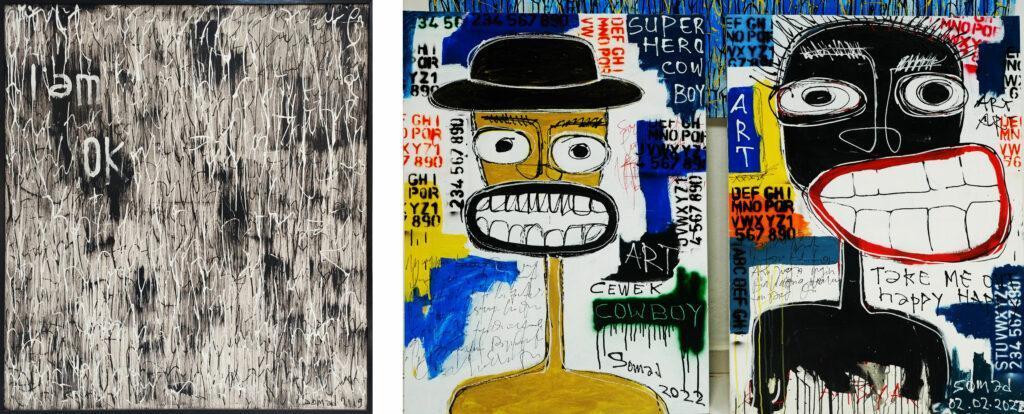 In his painting "Apa Kabar Mu Sayang" (2021), he shouts out his love for Art with humour. Not worried by stylistic changes, he also produced a wholly different series of works inspired by Action Painting, using the principle of drip painting. In the art piece 'I am OK', the contrast between the text and the dark pictorial representation makes us smile sympathetically. It reminds us of the reverence-inspiring, typically Indonesian, resilience in responding to adversity.
RailRoad Industrial or how old machinery can become elegant furniture
Our next stop is Bingar's distinctive world in the 'Railroad Industrial' space. The designer wanders the roads of Java in search of old workshops, factories, hospitals, and dentists' disused storerooms to find objects he can use to create unique steampunk-inspired designer objects, furniture, and lighting appliances. He opened a showroom in 2017 in the North of Ubud with the help of his architect brother. The building is an improbable rusted metal structure with rounded angles that stands out spectacularly against its rice field background. Bingar now exports his creations all over the world (mainly to Europe, the USA, Australia, New Zealand, Japan).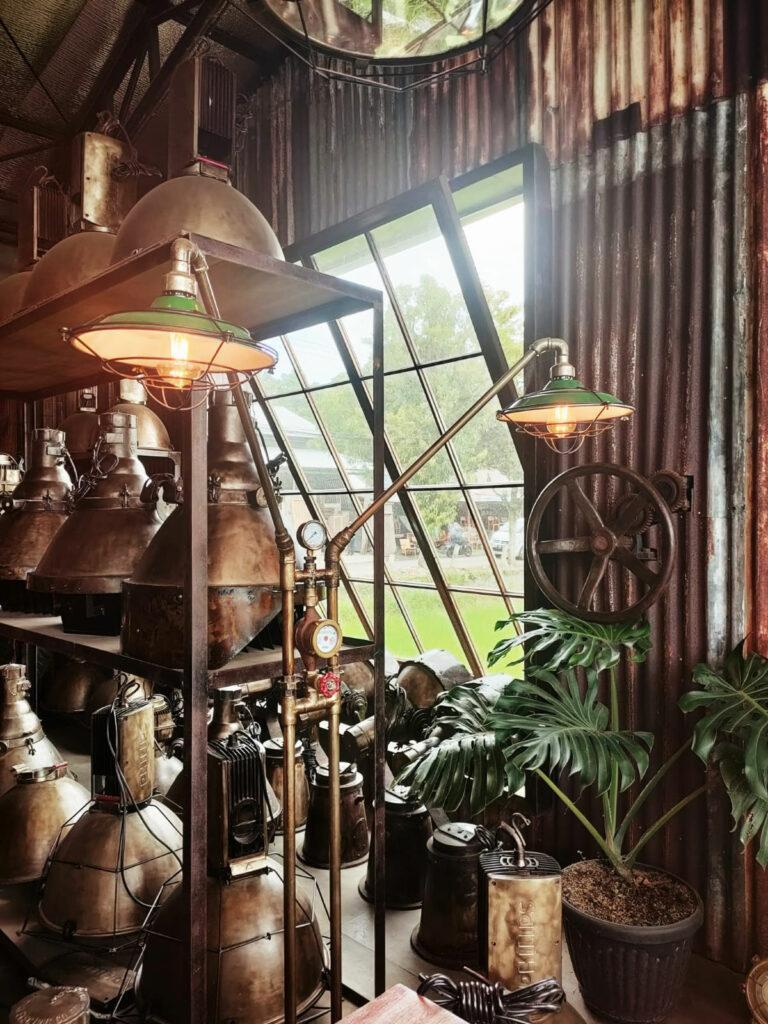 The whole adventure started years ago in Surabaya. After completing a degree in Graphic design, Bingar opened a fashion shop that he decorated with industrial objects gleaned here and there. His interest- then passion- for collecting classic objects was to become his main professional activity as his network grew and his talent for picking out exceptional pieces became more refined. Visiting Bingar's world is akin to time travel into Indonesia's Industrial and colonial history: you come across, for instance, Dutch Philips lamps mounted on Japanese surveyor tripods, showcasing the nostalgic beauty of another era's remarkably-made everyday objects.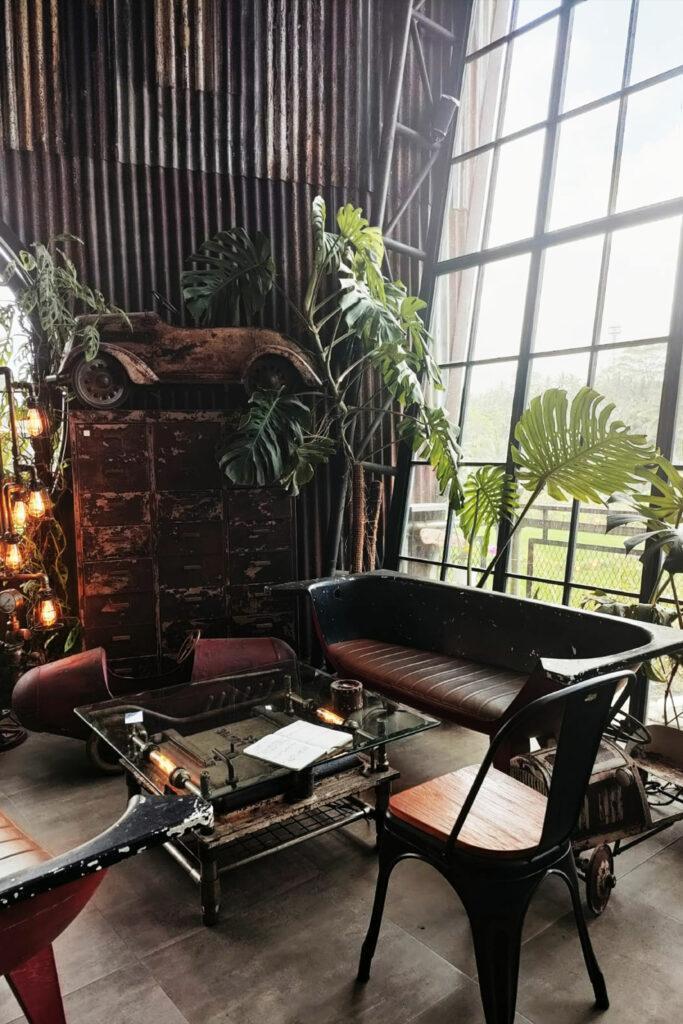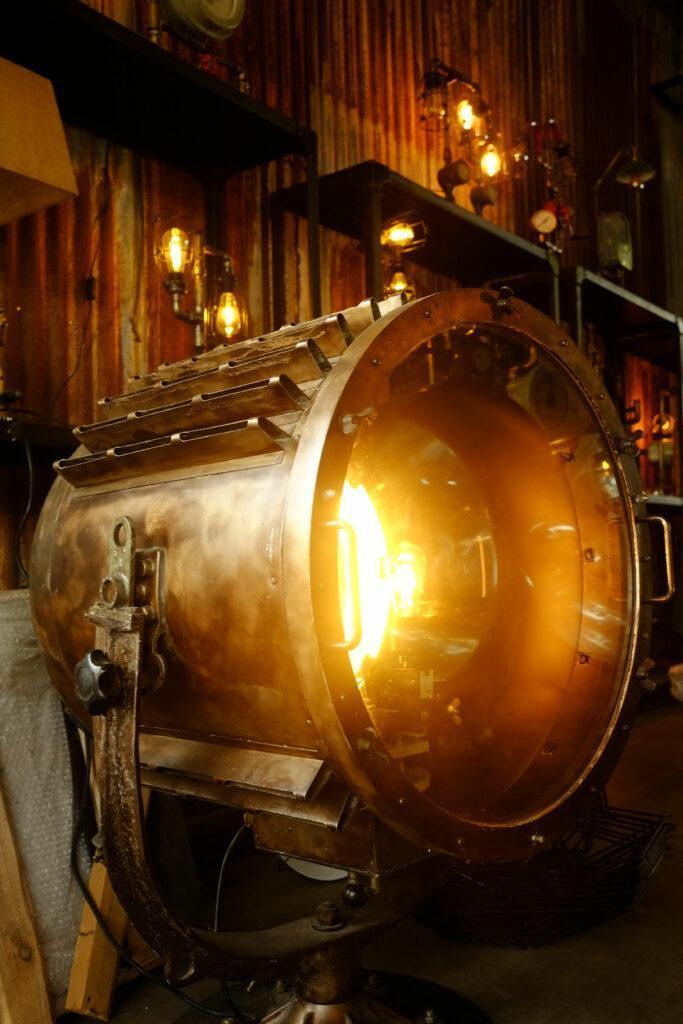 When asked what his craziest project has been so far, he recalls the unusual lamp ordered by a hotel in Sukawati. The 7.5 m object made of a tangle of metal piping could easily have featured in Wes Anderson's recent film 'French dispatch'. Each piece is necessarily unique, emphasizes Bingar. However, with his solid academic background, he has created a real design studio equipped with graphic design drawing and technical composition programs and processes, which allow him to recreate certain pieces, as long as he can find the right original objects to work with. For instance, he can make a copy of 'Table from an old oven door' with slight variations as long as an 'old oven door' and other components can be dug up. He's set up his welding team in Bali but has still kept a workshop in Java – which provides the piping-, for financial reasons but also by choice. The whole project is very Steampunk but not "no future" punk at all. Indeed, it certainly has a bright future!
BAMBUSA – THE ART OF BAMBOO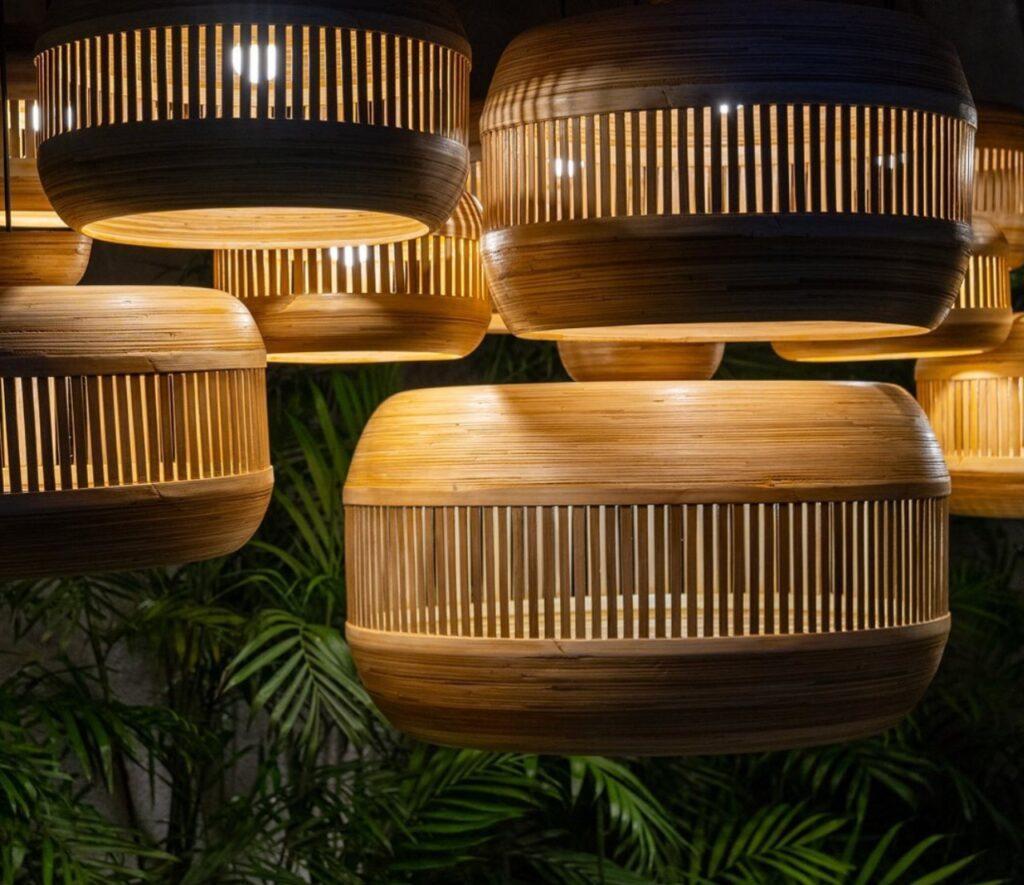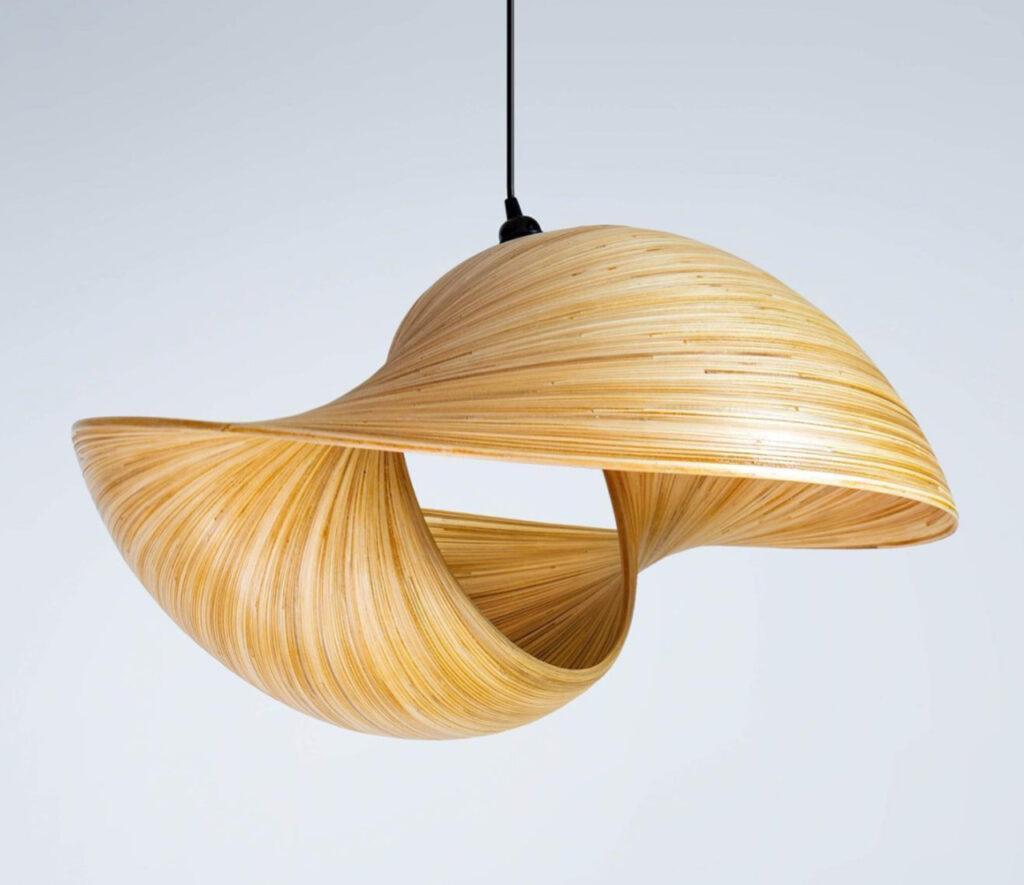 In the other exhibition, you will have the chance to discover Tungky Arianto's BAMBUSA workshop. Tungky Arianto is a small entrepreneur who is on his way to becoming big thanks to the quality and elegance of his laminated bamboo creations. He started off on his own in a small shop in Kerobokan before meeting international clients and delivering prestigious commercial projects. He produces downstream and spin-off products. These are very important in the construction/architecture and furniture/ decoration sectors of the bamboo industry. Dishes, boxes, baskets, hanging lamps, the seductive curves of Bambusa's productions will undoubtedly enthrall you.
Where?
Park 23. Jl. Kediri. Tuban. Kuta.
Feb 17th 2022 to March 15th 2022
Open every day from 12:00 pm to 21:00.
Instagram : @creativeclub_id
Credits : Dex / Cub team