CAMENG STUDIO : A COLORFUL SUCCESS IN THE FACE OF ADVERSITY
With its eye-catching explosion of colourful hand-painted hanging pots, it is pretty hard to miss. On a stretch of road that winds out of central Ubud in Bali, you will find a small family-run business that has not only weathered the Covid-19 pandemic, but weathered it with grit, distinctiveness, and determination.
A father-daughter team
I recently caught up with Wayan Cameng and his daughter, Made Indah Jayanthi. She is a potter and ceramics and art teacher at Serayu Pot & Terracotta in Ubud.
At the beginning of the Coronavirus pandemic, Indah decided to return home to Ubud from Flores, where she had been living and working. She decided to get actively involved in the world of ceramics. The idea was to support the regeneration of her family business, started by her father, Wayan Cameng, in 2005.
"My father wanted to attract people to Serayu Pots, especially during the current tourism slump. However, not being born in the era of social media, he did not understand how to do it, so I took over".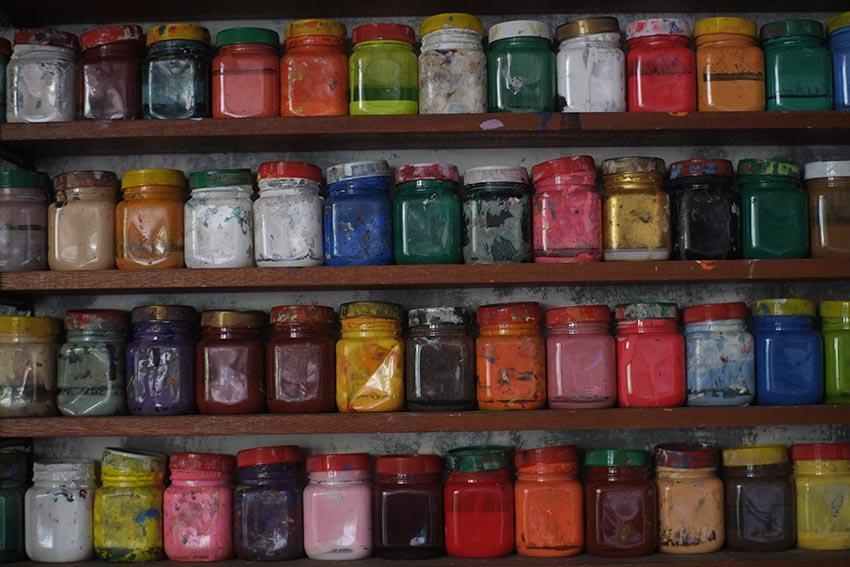 Unlikely beginnings
Serayu Pots began shortly after the first Bali Bombings and, surprisingly, back then there was not a single member of the family who could make a pot. Wayan, originally an artist and painter, would purchase pots from local suppliers, which he then decorated to sell for religious ceremonies and as decorative elements for hotels and villas all over Bali. With an artist's background, he transformed plain brown pots by incorporating many colours, creating an individual style for which he is well known today.
"My father wanted to attract people to Serayu Pots, especially during the current tourism slump, but not being born into the era of social media, he really didn't understand how to do it, so I took over".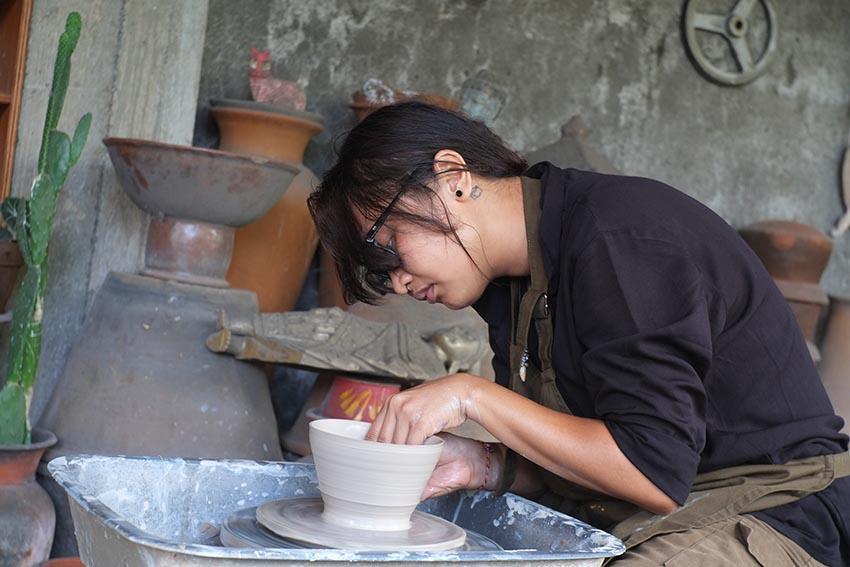 Ancients crafts and modern communication
When Indah first showed her intention to join the family business, initially, Wayan was skeptical of his daughter's enthusiasm. He was acutely aware that her knowledge of the pottery industry was limited. She had to work hard to convince her father of the validity of new approaches to diversify and grow the family business. After all, until then, it could have just been described as a simple, local pot store.
Indah had never previously worked with clay but, with the help of Youtube videos, she taught herself the art of pottery. She then put together a team, created a studio space, and introduced pottery and drawing classes. This attracted students from all walks of life and from as far afield as Jakarta and Surabaya in East Java. Then also began the selling & sending of their products to destinations all over Indonesia.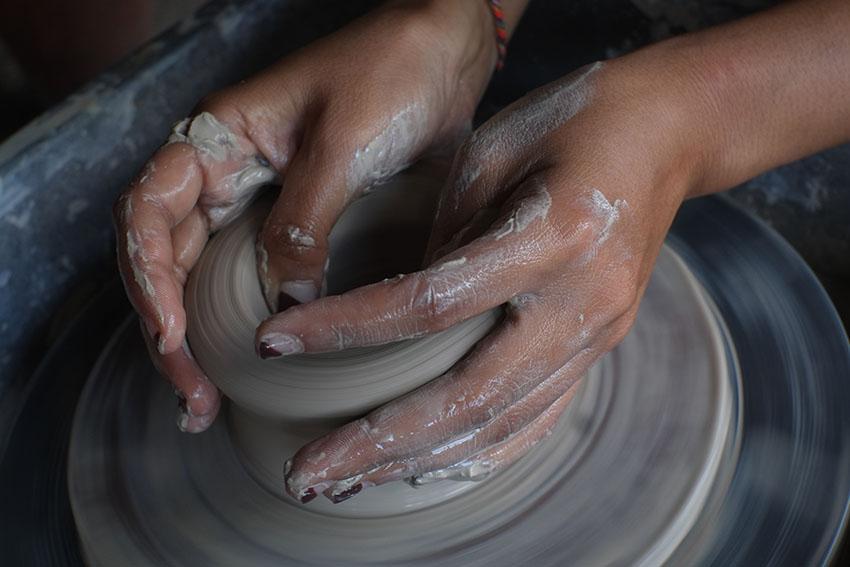 The therapy of potery
"I think pottery can be likened to healing, a type of stress release. We create an object using our senses, our touch and, our feelings. I simply direct the students to follow their flow and see where their hands take them. It is very satisfying to see them create something they could never have previously imagined they knew how ".
The recent success of Serayu Pots has gone beyond the family's expectations and has seen its revenue increase and its popularity grow, despite the downturn in tourism in Bali. The demand for the pots has increased along with the demand for classes. It is a way for people to explore their creativity.
"We want our business to continue to grow in a positive direction and we hope that we have inspired others to always keep working even in difficult circumstances".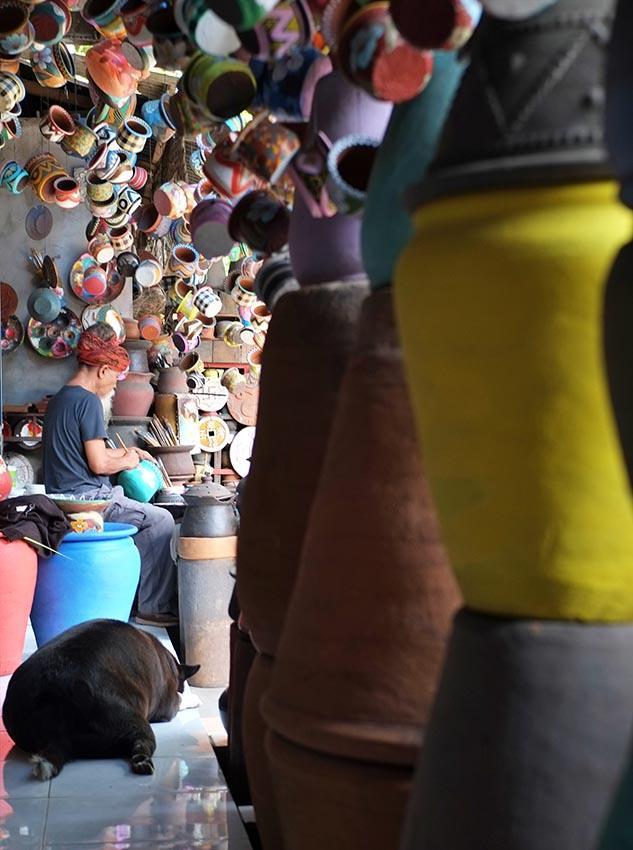 Inspiring father, tenacious daughter
I asked Indah how her father has influenced her personally & professionally?
'My dad is very inspiring and stimulates me every day. I have seen how he struggled to support his family after the Bali bombings, a time that changed our lives. As a result, he forbade my brother from ever working in tourism and is extremely proud of him in his chosen profession as a farmer. He taught us that, as Balinese, we have options. We don't have to rely purely on tourism to make a living. I apply much of what I have learnt from my father to my own life. He is sincere, patient, kind, and shows perseverance, especially in his work. There is much to admire about him".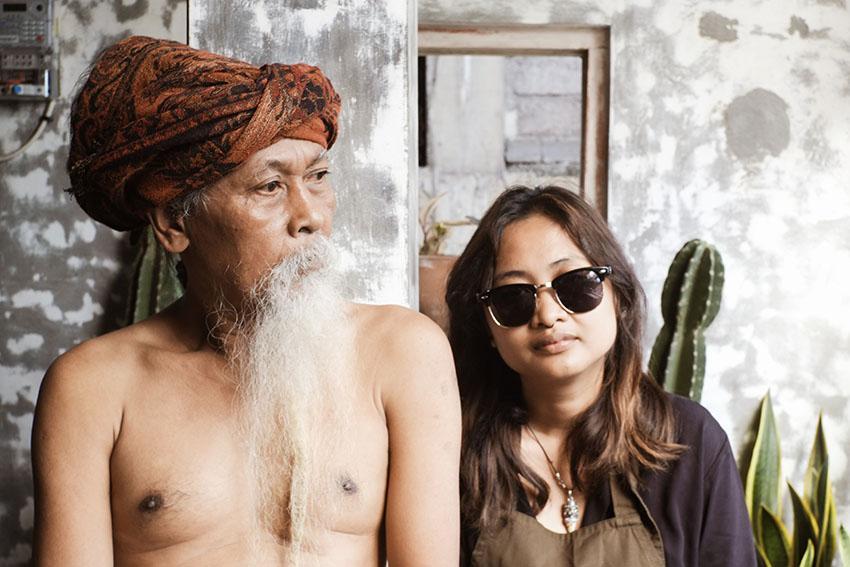 Wayan's admiration for his daughter is of equal degree, amazed by her tenacity to put in the hard work to learn the business and bring her new ideas to fruition ensuring the survival of their business now and into the future.
"We love seeing the smiles on people's faces when they go past and see all the colourful pots"
With its growing social media fame, Serayu Pots has, incredibly, been placed firmly on the list of must-visit destinations in Ubud. May it be for those wanting to explore their creative side with a pottery class. Or, simply, those just who want to get that 'Insta-perfect shot', exquisitely framed by the hundreds of colourful hand-painted hanging pots.