HANGDRUM STUDIO : FROM LUNCH BOXES TO HANDPANS
Today, CUB met with Nyoman Adi Suardita in his studio nestled in the Bangli mountains. Nyoman is the founder of 'Jaya Hang Drum' and has been making these instruments for a few years now. He demonstrated some of the tuning process for CUB… and it's very noisy! Make sure you don't forget your ear muffs if you're planning on popping by!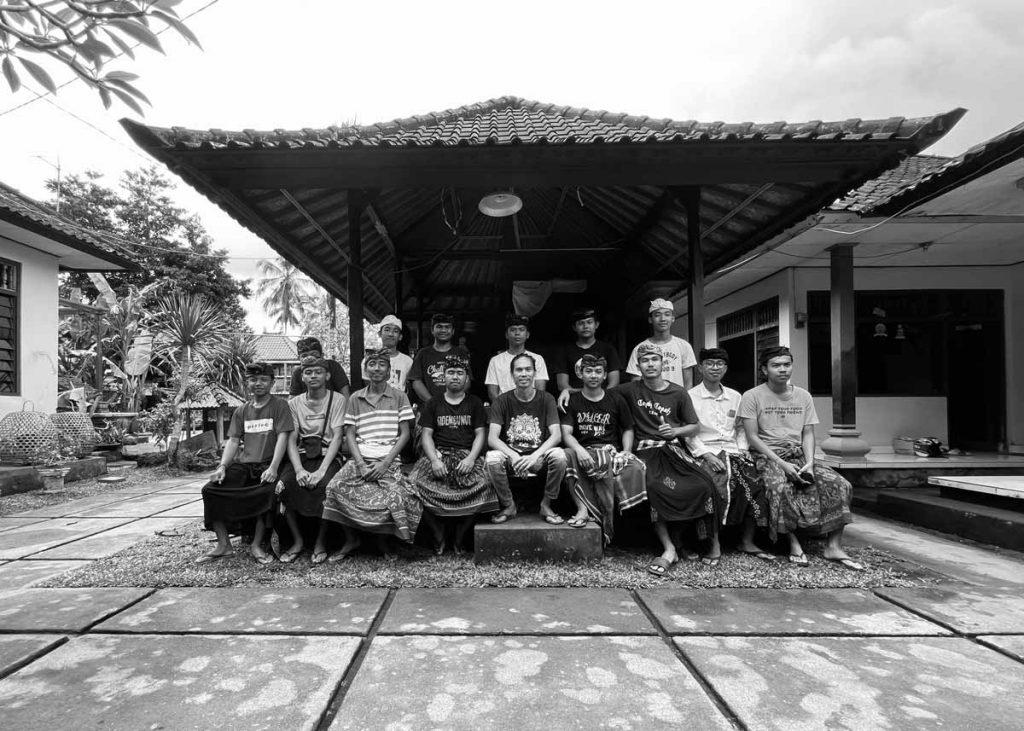 Nyoman started playing music with metal lunch boxes like the ones you get at school; each one makes a different sound, he says. He also played in a Gamelan band from an early age. A Gamelan band is a traditional music ensemble played by the Javanese, Sundanese and Balinese people of Indonesia. The music is predominantly made by percussion instruments. Nyoman is a famous and respected gamelan composer. He is currently training a group of twenty boys from his banjar (local village). Every year, he is invited to the Bali Arts festival. This event  should take place from June 7th to 12th this year in Taman Werdhi Budaya Arts Center in Denpasar, students will play some of Nyoman's compositions there.
Though coming from a classical balinese music background, he has always been curious about other musical styles and taken a deep interest in a variety of different instruments : guitar, gamelan, flute, xylophone. He even once collaborated with a DJ to create  electronic music.
When in Jakarta for a musical collaboration- he recorded a gamelan tune with a DJ and played live – Nyoman found out that DJs love using handpan sounds and integrating them to their music. It matches well with electronic music, in sound and in rhythm, was the obvious explanation for this unusual choice. Indeed, this little-known instrument, resembling a metal flying saucer, produces a mesmerising crystalline sound and is played like a drum, so great for creating beats. At that time, Nyoman was experimenting with several things and  also created an instrument played with 4 hands called a 'Loving bridge' but in the end, he decided to make handpans !
Handpans turned out to be pretty challenging to make. The original handpan is a musical instrument, sometimes  also referred to as a Hang or hang drum, though there is some controversy about this, as purists claim these are  slightly different instruments. It is part of the idiophone class. of instruments. Created by Felix Rohner and Sabina Schärer in Switzerland  as recently as the year 2000, it was the result of many years of research on steel pans and other instruments.
Nyoman recounts how it all started : "I heard someone playing a Handpan and the sound interested me a lot. I started looking into it. I told my brother (a musician as well) that I wanted to buy one. He replied that it was very expensive and that I should make it myself. That's how it all started! Later, a friend told me that it takes seven years to learn how to make one… But It only took me 2 years of research and 3 months of work to make my first one ! My friend was really surprised! (Laughs) I'm self-taught, I started off by watching youtube videos at the very beginning. I didn't know what tools or equipment were needed.  At one point, I had to go all the way to Jakarta just to buy a special type of glue and a tuner,  but on my return I realised it wasn't the right glue! I learned how to tune also thanks to Youtube. It was not enough though, I had to learn through personal experience too before I found the right way to do it. Since I started in 2016, the Handpan makers community in Bali has grown but I would rather not ask them how they do it, I prefer learning on my own".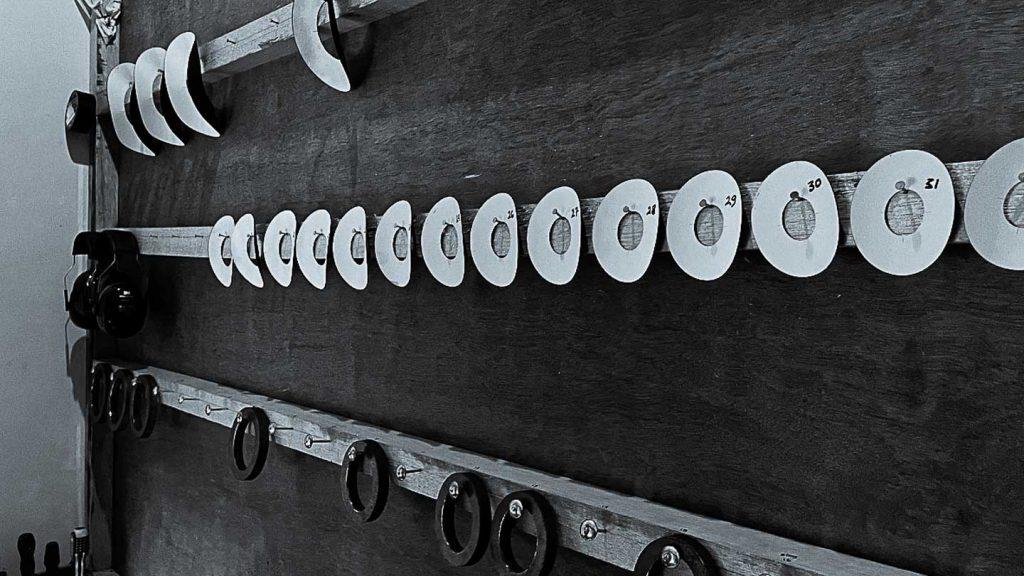 In collaboration with his Dutch partner based in the Netherlands, he is now producing high quality hang drums, most of them based on Nitrided half shells (special metallic shells specific for the instrument). Raw materials come from Europe and the special hammer comes from another supplier also in Europe. The Nitrided round shaped shell cannot be found in Bali.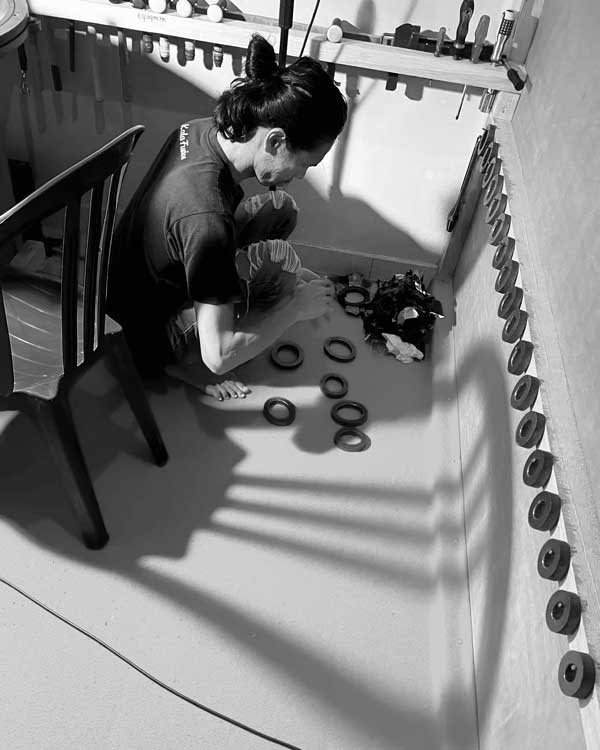 From his studio in Bangli, he then manually tunes the notes to the pan : "I start with the bigger notes and once they are set, I go down to the smaller notes. The handpan is very special as it is something like several different instruments all put together in one : steelband, drum, gong and gutu or gatan, an instrument from India". The first process is to create the notes, so each instrument has its different notes."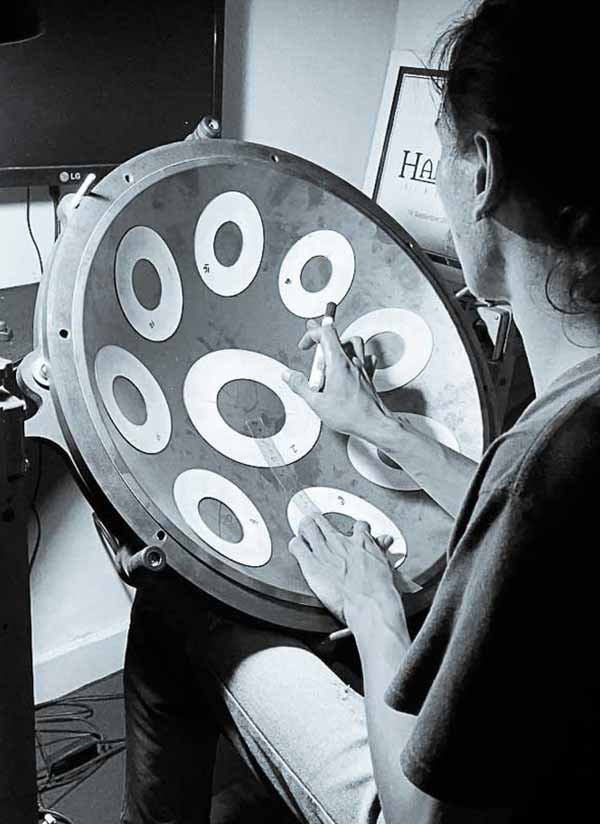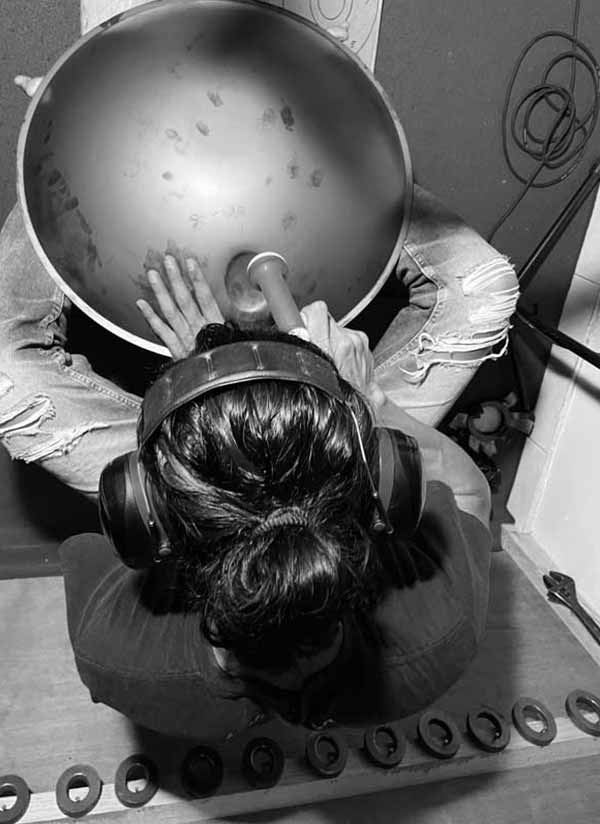 "First I make the instrument shell visually and then I choose the notes and make it musically. Handpans have their own notes, B notes for example. I keep the same space between each note, but some notes need more space between them. After burning and turning, I glue both pieces together and work on the final tuning. Some notes can be difficult to see( hear) or reach perfectly. I always use the tuner on my computer to make the notes".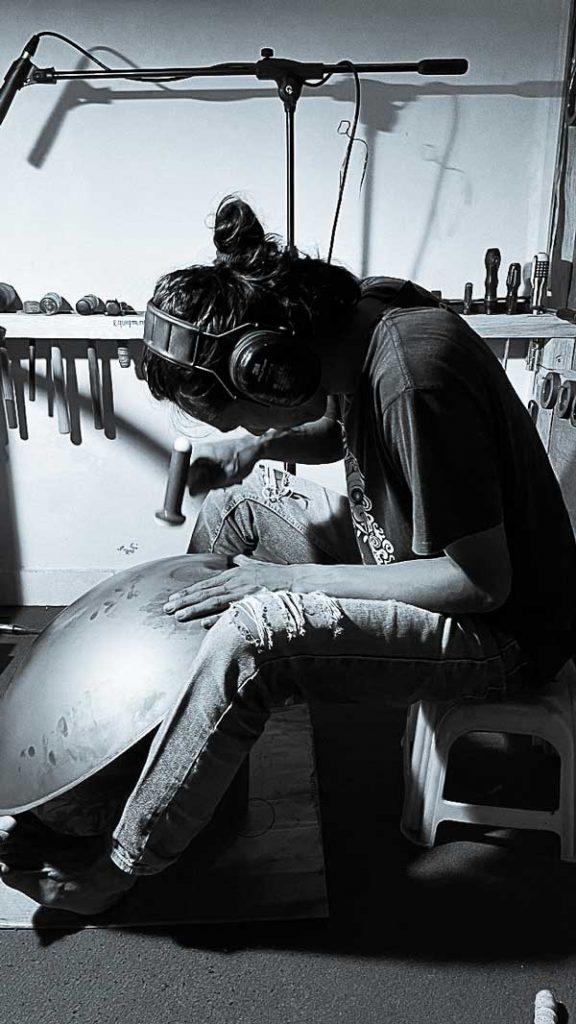 Nyoman loves making a variety of instruments, guitars, xylophones or all the Gamelan instruments and is used to tuning them. The Hang pan, however, needs more than a tuning machine. Tuning can only be done by hand with a very skillful and practiced finishing manual touch, which explains the price. It takes a lot of practice to perfect this art. Hang Pans also might need a revision every now and then, depending on how they are treated, used and kept.
Building on his classical balinese gamelan composer's ear and his skill for making musical instruments, Nyoman has been able to master the art of making and tuning the still relatively undiscovered but enchanting instrument, the handpan. His concept is yet another fine example of the melting pot of creative energies and influences that Bali seems to naturally generate.
Credits : CUB team