DOODA THE HOUND: BRINGING BACK TIMELESS QUALITY TO EVERYDAY ITEMS
Dooda the Hound shines out as a brand reminiscent of a time when the simplest objects were beautifully crafted from quality made-to-last materials. Its range is infused with the nostalgia of a pre-WW2 era when these everyday items were passed on from father to son.
The designs bring back the appeal of elegant, bespoke, timeless objects: bags, knives, and unique cigar boxsets including fold-out cigar cutters.
The designer, an artist at heart
The creator of the brand, known only as Dex, is a 'renaissance man' as he likes to describe himself, has tried his hand successfully in many areas of the arts.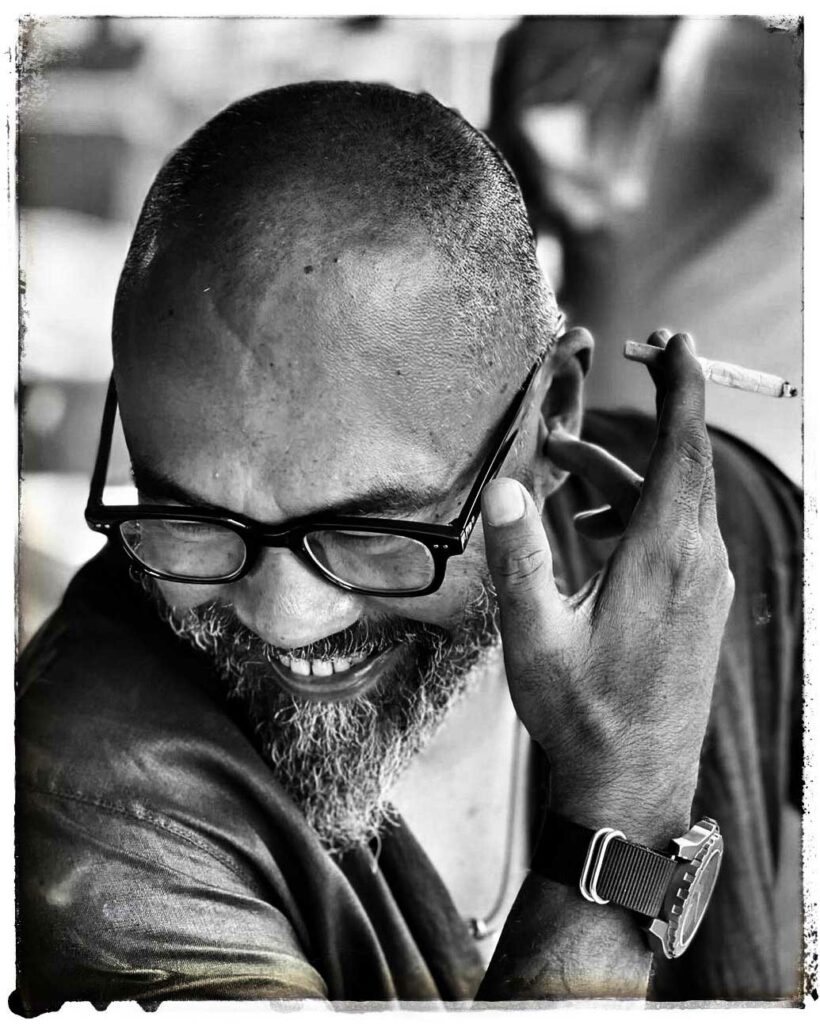 Originally graduating with a Master's in Fine Arts and Metalwork in London, the Jakarta born creative soon turns his talent to photography and film. He initially started his 'career as a portrait and fashion photographer for international magazines and brands. He then moved on to the film industry and spent more than 25 years working on documentaries, commercials and art films'.He has won 11 awards in South East Asia, the US and Europe' over the span of his career.
It was whilst travelling around the world for work that Dex originally started looking for the right bag for each adventure, and, not finding exactly the one he wanted, started designing them and having them made.
Bags to brag about…
The brand 'Dooda the Hound' was established in 2017 as a high -end bag designer, using quality durable materials, inspired by the classic bags from the beginning of the 20th century. Dex had already been making bags for himself or for friends. He sourced military-grade lightweight waterproof canvas and aged leather that he hand-died using a natural Native American technique. He wanted ' different styles of special bags to suit his requirements: they had to be waterproof, strong and have a good sturdy comfortable strap but still look stylish'.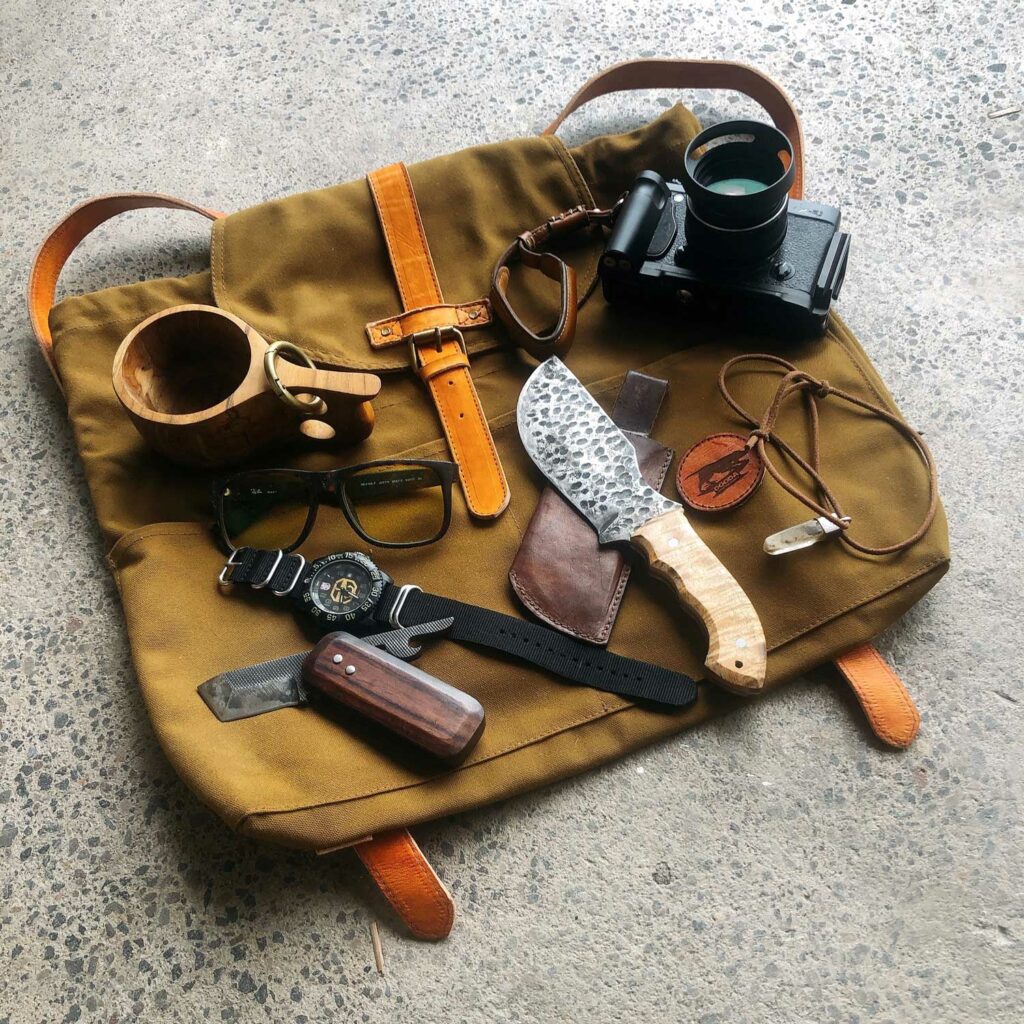 His inspiration in their making? 'One of my most popular bag designs was inspired by a 1930s newspaper boy bag and others from WW1 military-style backpacks; the saddlebag design inspiration came from WW2 motorcycle messenger bags. So it's safe to say that most of my inspiration comes from these eras'.
Dex's designs were soon noticed and he began making bags for shops in Jakarta as well as for export. Roll-top backpacks, motorcycle saddlebags, ranch bags, tool bags, and more were all designed and sold in exclusive shops and at various events around the world.
Blades soon followed
At the beginning of the pandemic, Dex came up with the idea of designing knives as well. With a background in metal works, it seemed like a logical step. He searched for a knife master craftsperson with in mind the vision 'real men carry knives', a nostalgic wink to the 'Indiana Jones' men of everyday life. The idea was 'a knife that can be carried daily and used for many different purposes' (and also by women!). It was a learning curve for Dex, he explains: ' In the process of learning to craft my own knife, I discovered that what I had learnt during my training in Metal Works was not all correct. I had to re-learn all about choosing the correct metals and different forging techniques. It was when I made my first Damascus steel knife that I was seriously bitten by the knife making bug'.
And so it began…
The inspiration for the knives comes from the European settlement period of the (American) Frontier era of the 17th century when everyone carried a knife as a basic necessity. The knife styles and shapes have a strong Frontier era theme and the blades have an unfinished raw aesthetic. The pocket knife & cigar cutter use a friction folder mechanism, which has its origins in the first-century Roman era.
Trained by a master of the Balinese Bladesmiths' Guild
Dex was trained by a traditional Balinese 'Pande' or a master from the guild of Bladesmiths in Bali, the traditional knife makers who make the ceremonial Kris knives. He could, in theory, make these ceremonial knives but you have to be a member of the guild to do so. The only similarity with his knives is the technique of forging the Damascus steel. Otherwise, the Dooda blades are unique, made-to-order, all hand-crafted by local artisans with great care. The handles are made from selected wood and carefully crafted. Dex stitches the sheaths himself occasionally after naturally hand-dying the leather, but prefers to use local craftspeople skilled in the art (who also make the bags for him) to stitch them.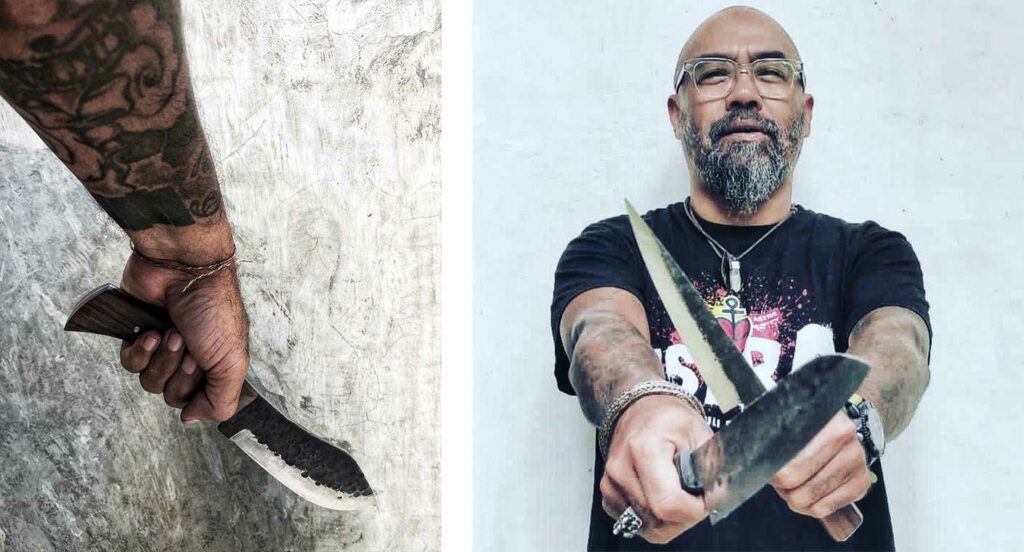 The raw materials, the leather for example, are readily available in Indonesia and Dex usually prefers to stick to trusted suppliers to guarantee quality and supply. For the knives, he uses a mix of imported steel and recycled steel. He re-forges them to become a solid steel ready to hammer.
The designer is now producing all sorts of handmade knives to order : chef's knives, bushcraft and hunting knives, friction folding knives and as mentioned previously cigar cutters.
The love story with cigars
With the knives, and in particular the cigar cutter, came the cigars. Dex was introduced to the art of cigar smoking over 20 years ago when he was working in Singapore. His boss at the time was a real aficionado with a great personal collection of premium cigars. 'During this time you couldn't smoke just anywhere so we spent a lot of downtime in between jobs in Cigar lounges. Suffice it to say I was hooked', recalls Dex.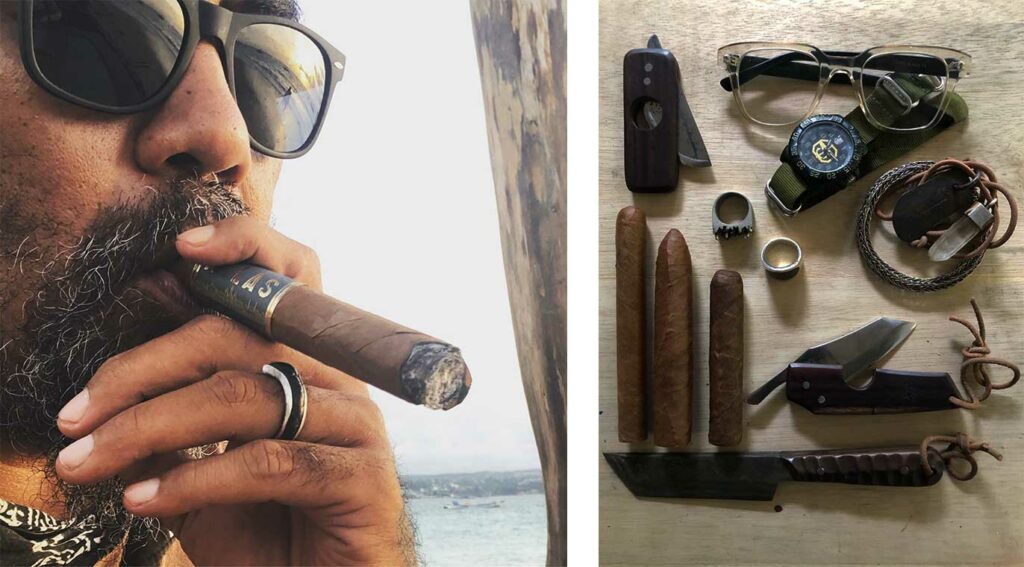 Fast forward to 2021, Dex decided to design a cigar knife and got a great reception from the cigar community in Indonesia. He was soon after interviewed by a specialist magazine and invited to the Jember Kota Cerutu Indonesia festival, a specialist cigar event in Indonesia. During the festival, Dex had the idea to order a bundle of cigars that he liked in order to create a limited edition cigar boxset that would include the newly designed cigar cutter. This created a great deal of interest amongst cigar companies and he was approached by some such companies to design and create his own Dooda the Hound cigar.
Though Indonesian cigars are not yet big players on the international scene, Dex believes the connoisseurs will find high-quality cigars here and made the decision to help promote the locally made ones. 'I am currently canvassing a few Indonesian cigar makers with this project, it is a work in progress so watch this space.' he says.
Dooda the Hound has a few more tricks up its sleeve. Who knows what will come next?